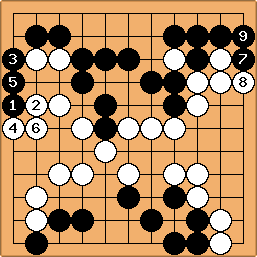 is a nice tesuji. After

,

seems to be the largest move, but...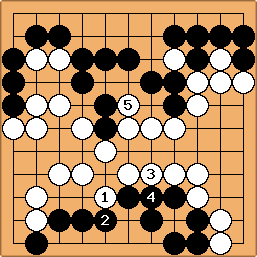 ...after that,

and

are sente. After

, White is going to win by about one point.
---
--TuRen?
JanDeWit asks: In diagram 1, why doesn't White play her second move at

? The way I see it, Black is going to have a hard time making life!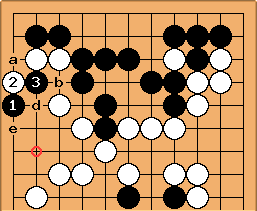 Black could just play atari with

. If White connects at a, Black captures at b (atari) or vice-versa. In any case, White's group has been 'punctured' by

and White will have to pull way back, e.g. to the circled point to defend. White may be better off answering

with d (Black captures at a) and b (Black connects at

- he could play a ko), then play e in sente (Black connects at f) and connect at the circled point in gote.
By the way - notice that if, after

, White plays at a he is caught in shortage of liberties by Black b. Black could (if I have read correctly) also play

at d, but would end in gote (as opposed to the right answer).
--MortenPahle (10 kyu)
Thanks for the explanation! I'm only just beginning to get a grasp of situations like this around the edge (am I running short of liberties? who has sente/gote?) and this a typical situation I'll have to learn to avoid/read correctly.
-- JanDeWit
---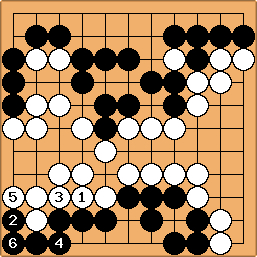 Instead, White should play like this. The result is a tie.
--Eyesore (8kyu)
---
ChaoSpectre: Would it be reasonable to play

here? White playing at

would create a more solid connection there and keep black confined to the edge. And as the saying goes, "My opponent's best move is my best move."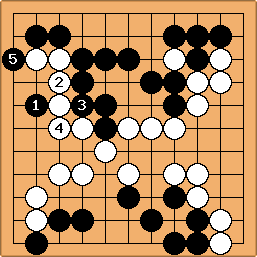 Would it continue like this? Black has inched in further here.
Oh... wait... duh... then it would continue like this and black would be further back than he was before. I hope anyone besides me found this helpful. :( If not, feel free to delete.