Practical Endgame Test 1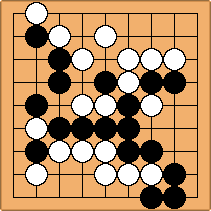 DaveSigaty: This is an endgame quiz from an old copy of Kido magazine. What is the result of best play? (Hint: Black can not win).
By the way this is the way the diagram appeared so no need to comment that there are 19 white stones and only 18 black stones with no place where a capture might have occurred! :-)
/Solution (DaveSigaty: The answer is now toward the bottom of the solution page)
See also: /Solution 2, /Solution 3
Solve the new follow-up question on /Solution 4.