Korean Style of Baduk
Korean Style of Baduk is set of three volumes written by Lee Chang-ho and Kim Sung-rae, translated by Kim Seong-june and published by Oromedia. The Korean Style of Baduk is appropriate for dan level players, perhaps high dan level, regardless what is written in the introduction:
Beginner's series of Baduk (English version) comprising three volumes and this book will reach out to western Baduk players, and I anticipate that these books could be a little clue (answer) to relieve their thirst for Baduk knowledge.
The book consists almost entirely diagrams, two or three to a page, with a key phrase (Sufficent for Black, Big mistake, White's study) and one or two sentences of commentary on the diagram. A series of diagrams are followed by one or more whole board examples from professional games that highlight the points just discussed. Interestingly, the original? Korean text appears as well.
As of August 2008, Kim has decided to suspend the Korean Style of Baduk series and replace it with 21st Century New Openings.
Reviews
George Caplan This book is a detailed analysis of two items - the mini chinese opening and the avalanche joseki. I think it is a great book, however, I am mystified how anyone can describe it as part of a "beginner series". Both of these topics are quite advanced and the detail of the discussion is very deep. Furthermore, diagrams often present positions and simply dismiss them as good for one side or another. As a dan level player, it is sometimes a struggle for me to understand why the position is bad for one side or the other.
Again - great book, but not for beginners.
Table of Contents
Volume 1: Avalanche Jungseok & Mini-Chinese opening
Part 1: Large Avalanche Jung-seok

Basic Diagram: Avalanche Jung-seok, page 13
Large Avalanche I, page 39
Large Avalanche II, page 125

Part 2: Mini-Chinese Opening

Main Diagram, page 147
Section 1: Early Attempts, page 177
Section 2: Powerful Novel Pattern, page 195
Section 3: Aggressive Method for Black, page 219
Section 4: Attaching Play, page 241
Section 5: Modified Mini-Chinese, page 255
Volume 1 Sample Diagrams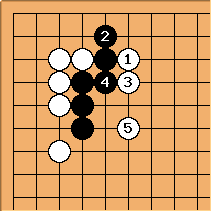 White's clamp at

is also possible. Then the sequence up to White

is expected.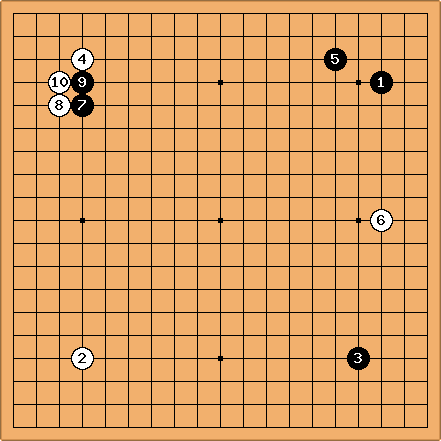 (In the book, all 49 moves appear in a single diagram)
Black: Lee Chango-ho 9p
White: Mok Jin Suk 4p
7-1-99
Black won by resignation.