Flying off orthogonally
Charles The 'flying off' feel is like this:

When Black cuts with

(probably questionable)

tries to set up a driving tesuji based on White's atari at a. This is one element of many sabaki techniques.
Nota Bene: Beginners play atari.
This

is much better than either available atari play.

If White just forces out this way,

sits on an ideal point. I think one becomes stronger just by realising that this is entirely the wrong approach to the game. Black's initial cut works badly with

, but White has ignored all that.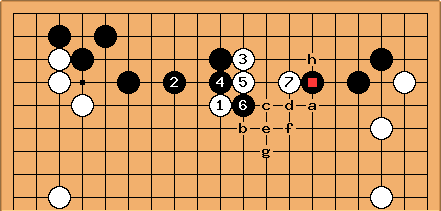 From Yoda's Vital Points and Skillful Finesse for Sabaki.

defers white's decision on which atari to make against

, setting up both a driving tesuji and impacting

. At first glance

looks severe, but after

white has no difficulties here. If

at a white effects the tesuji.
This concept has something to do with leaning, but appears at the level of suji.
---
A large-scale example.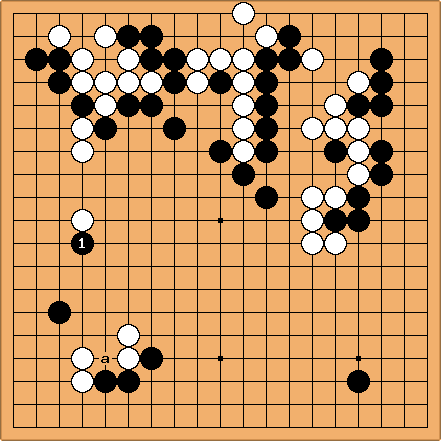 This position is from Cho Chikun - Cho Sonjin (B) in game 2 of the 54th Honinbo final (1999-05-24,25), at move 79.
Here

again exemplifies one of the most interesting 'feelings' about fighting: that rather than trying directly to cut at a (a failure, according to easy way out of a double kakari), Black should spread the struggle out in an orthogonal direction to take some wider advantage.
Black succeeds, no doubt deliberately, in starting a complex fight, rather than just playing out a corner joseki. (One can note that not too many of the worked-out 4-4 point joseki lead to large-scale fights, if you believe the books - but that may be a problem with joseki as definitive sequences, as much as anything else.)
Sometimes the way this is expressed is of 'incorporating' other parts of the board into the fight.