Drooping Lotus
The Drooping Lotus is a hamete, or joseki trap, originating from China during the 12th century. It gained popularity in China during the late Ming to early Qing dynasties. In modern times, the name is often used to refer to a 4-4 and 3-4 variation. However, in ancient China the 4-4 variation was the defacto, as games began with players placing stones on the 4-4 points.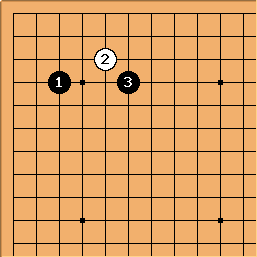 Name
The Drooping Lotus may be a mistranslation, as the modern, literal translation is 'Drooping Lotus' or 'Resupinate Lotus,' while dictionaries say it refers to a tiger lily. The name 'Drooping' (or 'Resupinate') may have derived from the descending variation of

:
---
Notes
Guo Bailing published over 60-subvariations of the 4-4 variation in his book Sanzi Pu, with several breaking 100-moves and filling up nearly half the board.
See Also