DOWN
For "Down" as a direction on the board see Up and down
---
In Combinatorial Game Theory DOWN is the name of an infinitesimal, also written ↓. DOWN is defined as
`` darr = { ast | 0 } ``
Left (Black) can play to `` ast `` (STAR), while Right (White) can play to ``0``. DOWN is negative, favoring Right, who gets the last play, no matter who goes first. The opposite of DOWN is UP, also written ↑.
Some plays with a miai value of 1 chill to DOWN. (See Chilled Go). Here is an example.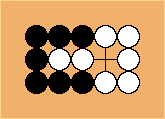 This position chills to 1↓ (1 plus DOWN). White can get tedomari locally, no matter who plays first.


White to play can simply fill, of course, leaving no further play.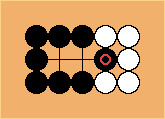 If Black takes, we reach this position where either player has a 1-point move to end local play. (Except for a ko threat if White takes, which we ignore in chilled go.)
See also