Cutting the two-space jump
In creation...
Even the one-space jump can be cut the more so the lighter two-space jump. Weaker players (like myself) however come into trouble instantly when trying... So this page intends to show ways to cut two-space jump...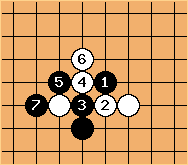 In case black has a stone at one b he can play like this. But white can choose which side to cut, by playing

at

. Also this cut depends on the ladders.
---
See also: