Bamboo joint shape discussion
No, I don't think that the bamboo joint is bad shape ... but.
This was triggered by a discussion on shape and was also discussed on rec.games.go (Autumn 2000, I think).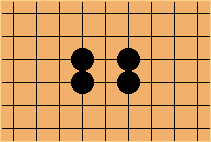 The 'but' above comes from the fact that a bamboo joint has several 'defects' and is therefore often not the best shape to play in a given situation. (See bamboo joint for examples of shapes to which it obviously is superior.)
These defects (as I see it) are:
The bamboo joint is heavy/slow.
The bamboo joint has no eye potential.
The bamboo joint can lead to a shortage of liberties.
Those 3 things can be said of kosumi too. ~srn347
(See the bamboo joint may be short of liberties, and look

here for an example.)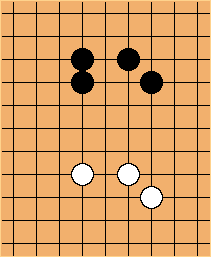 The black shape at the top is an alternative which, in almost all cases, is as connected as the bamboo joint but at least is slightly lighter and has a slightly better eye potential.
The white shape at the bottom has lost some connectivity but gained speed and flexibility.
I am not trying to say that the bamboo joint is bad, but merely that there are sometimes other options which are better.
(I think this is a controversial statement and have added it to that list. --Stefan)
Anonymous: This is actually a shape called Trapezium Shape.
---
Bamboo shape on its own, without the opponent's stones, misses the point. And the point is that it gives a safe connection and at the same time creates more influence and a wider base for escape.
Of course, it has disadvantages, amongst which the obvious is a ko threat. The fact that you can sacrifice part is an advantage, though.
Another disadvantage is that sometimes you regret that you did not take that liberty from your opponent.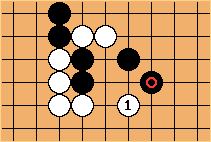 But if White plays

here instead of at

or the bamboo joint, she is usually better (a weakness remains though). --HolIgor
---
This had to happen: I have exactly the same remark and wrote it simultaneously with HolIgor. #:-7
There is a problem with the shape you suggest: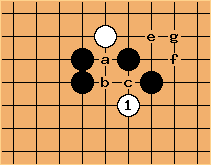 attacks the shape of this black group. Black has to connect, but in any of the three options a, b, c, Black is left with an empty triangle.
--Dieter
---
I agree with all your comments - like I said, I just wanted to warn against always playing the bamboo joint.
---
You are right in saying that whether you play the bamboo joint or one of the other shapes depends on the situation, but you seem to suggest that those cases are equally distributed. I don't think so. The bamboo joint is the proper shape in I would say 90% of the cases.
---
See also table shape