7x7 Board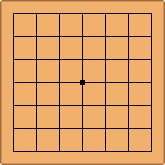 7x7 is an extremely small board, used a lot on KGS. The action is very fast, and Black tends to do best on tengen at the opening. -TimBrent
A group of strong players claim to have found best play on 7x7
Solving 7x7
According to a

Chinese-language article cited on

Wikipedia, the 7x7 board has been weakly solved -- ie. not all legal positions have been analysed, but paths for Black to win the game against any defence have been found.
The citation to the article says:
"The 7x7 solution is only weakly solved and it's still under research,
1. the correct komi is 9 (4.5 stone);
2. there are multiple optimal trees - the first 3 moves are unique - but within the first 7 moves there are 5 optimal trees;
3. There are many ways to play that don't affect the result."
Links