4-4 point low approach low extension tenuki, diagonal attachment, 3-3 invasion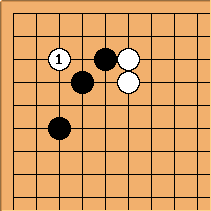 This is a fairly fundamental position in contemporary go. The white stones on the outside may well be weak, but both players ought to be well-informed about the status of the 3-3 invasion at

. Can it live?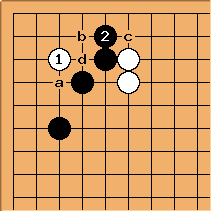 here must be counted as the typical answer. Alternatively, Black might block at a allowing White to connect out (nearly) at

, which is purely defensive; Black might play at b which attempts to kill the corner but is bad shape; or play c, then a, which gives away eye shape to White's outside group.
Q: Can't black also answer at d?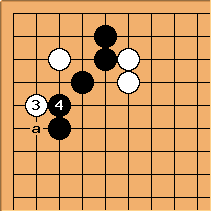 Now

is usual and

is probably correct shape: to play

at a allows White to push through and cut, and is potentially an overplay unless Black is very strong locally[1]. But there are still difficult tactics possible after

.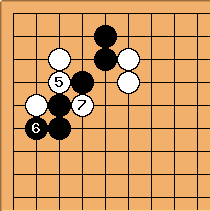 White has the idea of playing at

here. White could simply live now, but this sets off tactics, assuming Black plays

out of fighting spirit. White cuts at

.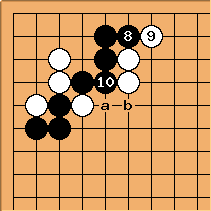 Black has the other option, of playing at

first to see what White does. If

then Black will set up the cut at b to break out. This is a tough fight.
---
[1]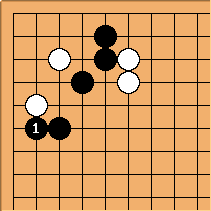 If Black does block with

here, White cannot quite live in the corner. On the other hand White now has a choice of sharp ways to play.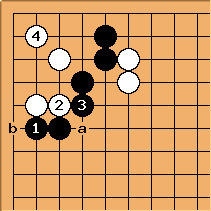 White

and

aren't quite life in the corner, yet. But the cutting point at a is serious for Black. Note that White at b has a big effect in life-and-death here.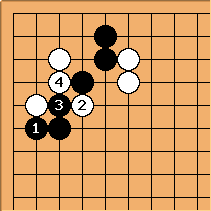 White can also play

this way, a transposition into the variation considered earlier.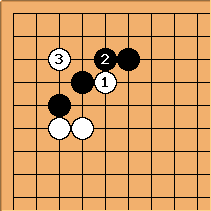 Shows up in a game of Antti Tormanen's (

http://gooften.net/2012/04/12/teaching-game-and-review-with-kamimura-haruo-9-dan/) (Note the presence of other stones in his game).