4-4 point low approach low extension, slide, 3-3, tenuki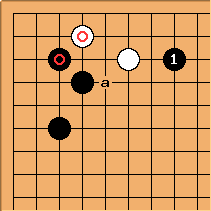 In this position, it is considered to be a mistake for White to play out the exchange of

for

and then play tenuki: the attack with

is severe. It is better in principle for White to leave out the

/

exchange, which is typically a thank you move clearing up the question in Black's mind whether White can later invade at

.
4-4 point low approach low extension, slide, pincer, tenuki deals with the resulting position (by transposition).
What is said here is another example of the 'misplaced slide' as discussed on the go bloopers page.
Hyperpapeterie: In a recent Shygost lecture, he said that pro opinion is changing here, thanks to Korean innovations. According to him, a has good prospects for settling the group, and therefore white may play away in order to take a big point. Of course, this is just one (non-professional) source, so if someone wants to confirm/deny/replace this thought, that would be welcome.