4-4 point diagonal attachment, low corner enclosure
In the 4-4 point diagonal attachment joseki, it is not recommended to play the 4-4 point low enclosure at

. In most cases, Black should play the one space jump at a instead.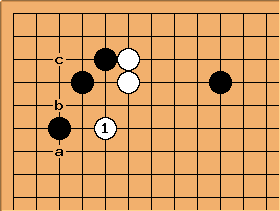 One reason is that

becomes a good move, pressing Black low. Then White can look forward to the bad aji at the attachments at a and b, as well as the 3-3 invasion at c.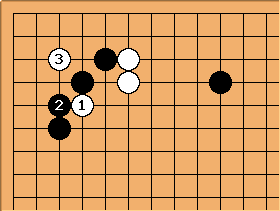 Another reason is that when the outside White stones are strong enough, then White can look forward to attaching at

and then playing

at the 3-3 point[1]. White can look forward for reducing Black's territory or increasing White's influence, or both.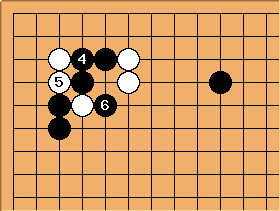 Specifically, the ladder after

should favour White in order to play the

,

combo.


[1]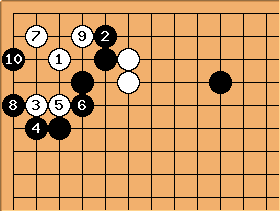 In normal situations, it's impossible for White to invade the 3-3 point directly. This sequence is the most common variation to kill the White group.
(However, White does have the choice of fighting instead of trying to live in the corner-- see 4-4 point low approach low extension tenuki, diagonal attachment, 3-3 invasion for more details.)
---
unkx80: The remainder of this page contains discussion moved over from 4-4 point diagonal attachment joseki.
---
BramGo: This situation is very simular to one of the joseki. But the marked black stone is at a low position here instead. Imho its impossible for white to invade at A now. (Black can play B and white can not live here) Can somebody confirm this? Also, does it also die when the marked stone would have been played on the 4th line? (I think not)
I know some 5d-players say the marked stone should always be played on the 4th line. But to many beginners this remains a questionable position.
minue622: In normal situations, it's impossible for white to invade at corner. The sequence in Diagram is the most common variation to kill this white.
BramGo: If my previous position is bad, allthough it does protect the corner. Then why is this position generally accepted anyway? It also seals of the corner while making about the same amount of points in the corner, and white has the same result too.
Dieter: I think that - if the 5d really state that it is better to play on the 4th line - the reason is that protecting the corner as in your first diagram is wishy-washy. It doesn't fully protect and doesn't develop or attack. In your second diagram, the corner is 100% secure :
If the black stone is at

instead, a White stone at the circled point would exploit the aji of a-b-c-d or e.
This marked move also leaves some aji at a but much less of it. The move is rather single-purposed and needs early follow-up at

(losing sente). Please note that these observations are on the brink of my strength.
---
minue622 : To see why first diagram is bad for black, count the number of stones.
1. In your first diagram(black's bad play), the number of black stone is 4, and that of white is 3. (Black 4) vs (white 3)
2. On the contrary, in your second diagram(locally a joseki), the number of both stones is the same each other. (Black 4) vs (white 4)
3. Provided that the result of both diagrams the roughly the same, black is investing one more stone than white in first diagram.
So, black is playing inefficiently in first diagram.
Correct plays(locally speaking) for black are showed in following 2 diagrams.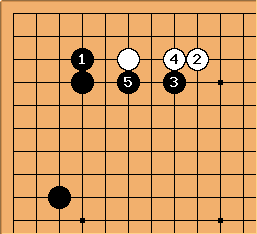 The intent of

is to defend B's corner securely. In this diagram,

,

moves might(may?) be put off, depending on a condition of whole board situation.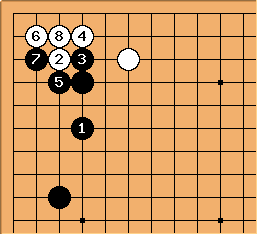 Another way to play is

,which is somewhat modest. In this case, it is often seen for w to invade at 3.3 immediately.