4-4 point low approach low extension, slide, pincer, tenuki
This position is reached in one of several ways. Since the local tally is BBBBWW we can assume White has played tenuki here, but it might be that Black played

then

, or

then

, in a normal joseki position (4-4 point low approach low extension, slide, pincer). It also arises from the 4463 enclosure.
Now it is quite urgent for White to make shape here.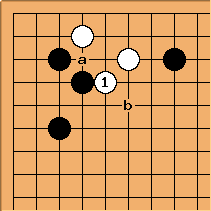 The answer at

is a good example for the study of shape: it makes a the vital point locally, but Black at a is an empty triangle so White has something to work with subsequently. This therefore is a good pattern to study.
As usual, research based on pro games shows other ways. In Korea

at b is also played, even though this might seem to contradict the slide White played earlier. And in many cases Black reacts to

by playing tenuki himself.