3-4 point high approach outside contact, tsukenobi simple lines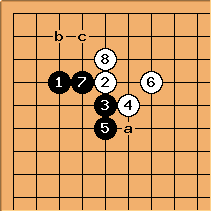 invites a difficult variation, but White need not go along with Black's proposal. There are several simple continuations, although White probably will have to accept a small disadvantage if she wants to avoid the fight. If Black is strong on the left side, or if White does not trust her own fighting abilities, this is probably a small price to pay, however.
The first possibility is

here. The moves to

are to be expected, after which Black can choose between extending along the left side, playing a or going elsewhere. White b and Black c are large endgame moves.
---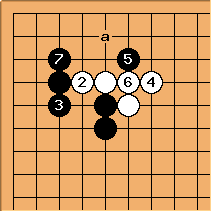 White can also play the hanging connection at 4 after the

-

exchange. The sequence here is more or less a set pattern, but still considered clearly better for Black. Black has territory as well as a position to make influence along the side, while White does not even have a guaranteed base for her stones - after Black a they will be left floating in the center.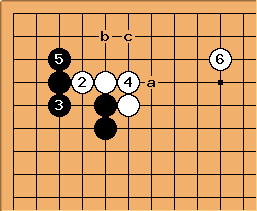 The solid connection at 4 might be an alternative for White a. At least this time if Black slides in at b, White can answer at c.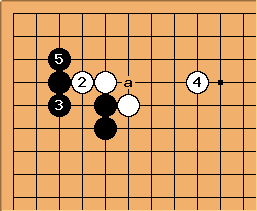 Perhaps the most common variation in the first moves of this joseki is the direct extension to white 4. White sometimes plays this way to avoid Black's thickness becoming too major. Nevertheless, locally this result still seems favorable for Black, getting both the corner territory and the aji of the cut at a.
---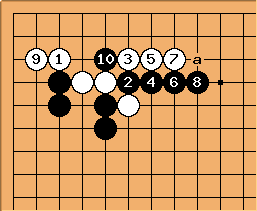 Just as an aside: if White does play the normal hane at

,

here is the simple variation; the cut

is a probe before deciding about Black at a.
Authors: Andre Engels