3-4 point high approach outside contact, tsukenobi main line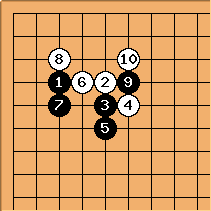 With

, Black prepares for a fight:

accepts the invitation, although White still has the possibility to settle quietly. This is the strongest way for both players to play after

.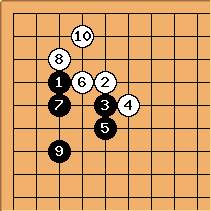 is not a common move, but it is still sometimes played. There is something paradoxical in first playing the sharp variation with

and

, and then settling for an easy resolution with

.

makes nice shape (see hanging connection to the second line as good shape).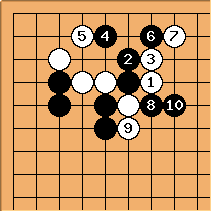 Playing atari from the other side instead of

in the first diagram is wrong, and leads to White's own destruction. The tesuji of

brings White to her knees. The question is not whether, but where White is going to lose some vital stones.
---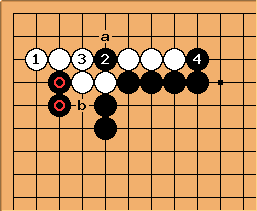 is the compromise move. In general it is regarded slightly better for Black, but if Black has some stones to help his thickness on the left side, this may well be better for white than getting attacked as in the other variations.

is a nice probe - Black waits to see how White answers. If white plays at a, Black defends at b in sente. If White connects at

, Black plays at

, having the sequence in the next diagram in hand. Once White has descended to

, Black should have no qualms about sacrificing the two marked stones if White pushes through at b and cuts.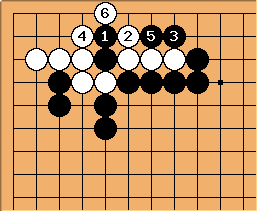 After the previous diagram,

through

are a nice sente sequence for Black.
---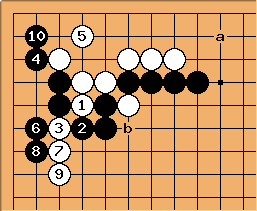 The aggressive cut of

is considered to be White's best move. After

, Black lives. White can next choose to play White a to settle the top, probably followed by Black b, or choose the violent fight of the next diagram. The main question is, whether White will be able to settle her three stones easily.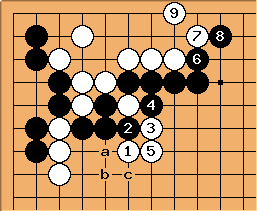 White can also fight with

here. However, if Black can next play the cut of Black a-White b-Black c because White does not have a good ladder, she seems to be in trouble.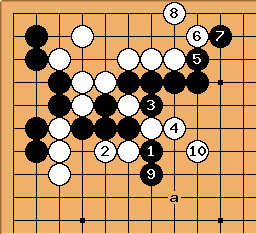 (Black 11 at a.) If Black wants to fight even harder, he can Change

in the previous diagram to

here. The subsequent fight might well decide the game.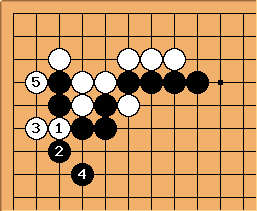 Sacrificing two stones with

is a move that might be worth contemplating. The move was introduced by Kajiwara in a game against Ishida in 1970.
---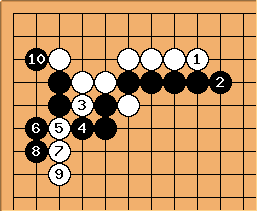 To avoid the sacrifice, in a later game against Kajiwara, Ishida exchanged

for

before cutting. The subsequent sequences are similar to those of the joseki without this exchange.
-- AndreEngels