Wu Ren Go 1 / Black
Moves 51 to 60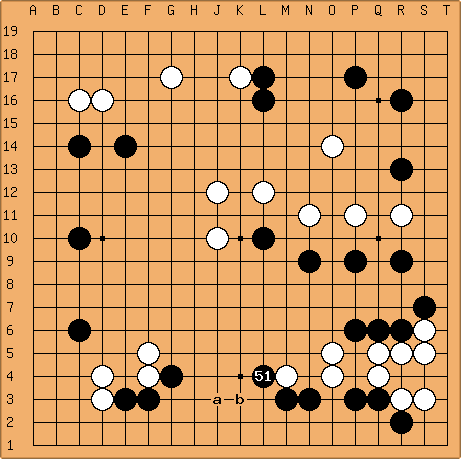 suggestions

emeraldemon: J3(a), midway between the two groups, linking them into one supergroup.
jvloenen: Finish the sequence, and helping our other group seems to be right to me too. I suggest K3 (b).
FireclawDrake: L4 could be an interesting move, aiming at connecting up top.
Herman chooses L4 (c): There is a lot of aji in this position from the push through at O3, making L3 sente for white, with no good response to it for black. This move protects against that aji, while putting pressure on the white group (as emeraldemon already pointed out earlier, if black plays S2 white only has one eye in the corner. If black plays K3 (b), white can play L4 and black will need to defend at either L3 or O3, which is painfully submissive. If black plays J3 (a), white can play L3 and black will be stumped for a good reply. This move pretty much forces white to make a bamboo joint, after which black can decide how to further handle the bottom half of the board.
Moves 41 to 50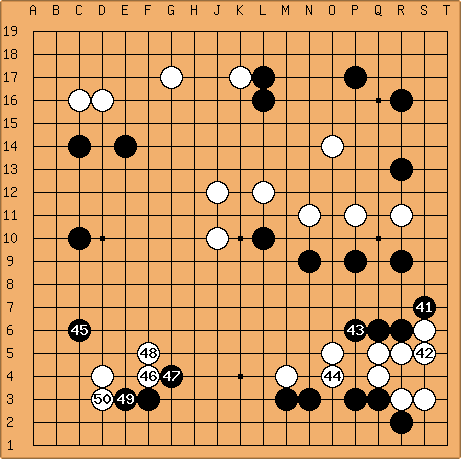 Moves 31 to 40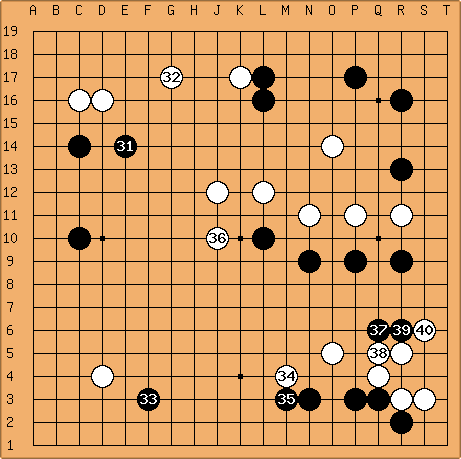 Moves 21 to 30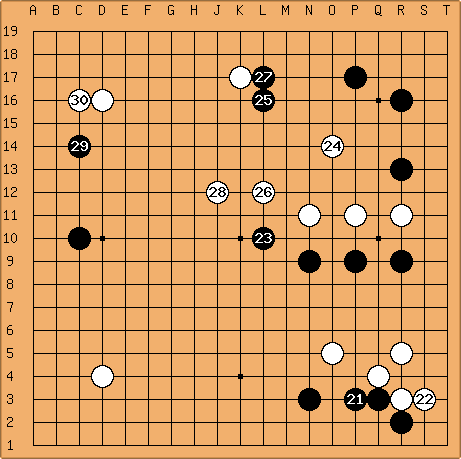 Moves 11 to 20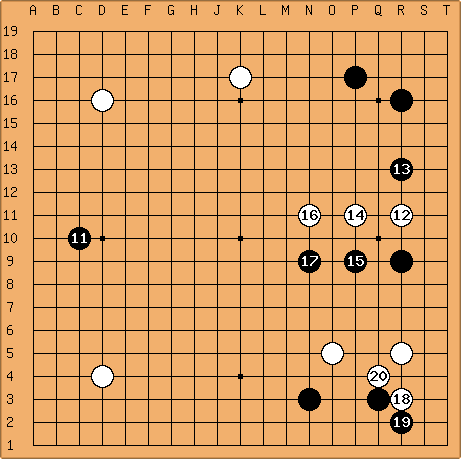 Moves 1 to 10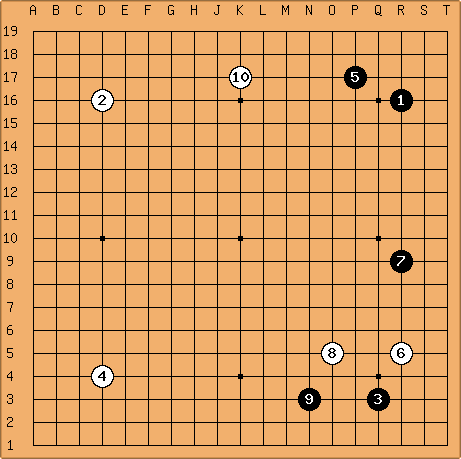 ---
Some move cannot be discussed without spoiling the game. Here a list of moves which need commentary after the game is over.
Move 43: What happens if white plays P6?
Move 43: Why is Black P6 especially painful for white?
Move 43: Black to play O4. The captains disagree, so a discussion would be nice.
Move 45: What move would unkx80 like to play?
All moves: is there a move which is not suggested, but is clearly better than the suggested moves? That is: where did the soldiers miss an important move, or had the chance to play tenuki?
unkx80: I am now in a position to answer two of the above questions:
Move 45: What move would unkx80 like to play?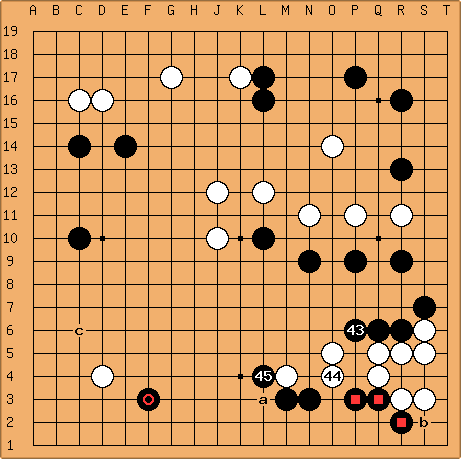 I wanted to play

here as shown, because it is a simple move that (i) works well in combination with the

stone, and (ii) it prevents the very annoying White a which I have no good answer for. Part of the reason for (ii) is because I am quite reluctant to sacrifice the

stones, especially when White has not yet played at b, is because the White dragon is not yet fully alive, which we can exploit using a wait-and-see approach. And I thought that

is entirely natural after

.
The main reason why the game sequence worked better than this diagram is because White was not able to find time to tenuki from the bottom-left corner to play at a after Black played the double approach at c. After all, Black gets a good result if White gives up the corner to capture the

stones. This is why I said that the double approach is perfectly playable. But somehow I have a feeling that White could have handled this situation better, exactly how I am not sure. This makes my confidence in c quite a bit lower than than of the simple move.
kb: Yes, White could have played much better in this position. After Black's double approach at c Black really owes two moves to White - one in the central group and one at the bottom. After Black plays at there is no problem anymore - it might be a good time to end the game (it's been a couple of months) and review it thoroughly. (White should have not answered the double approach at left - the two Black groups are too big for Black to ignore a White move on the right.)
Move 43: Why is Black P6 especially painful for white?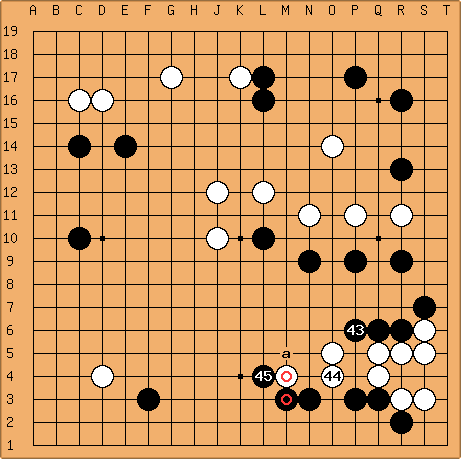 Remember that about twenty moves back

and

made the

and

exchange? The main reason why I said that

is painful for White because it makes the

exchange look pretty bad. Consider a tewari analysis where we remove the

and

stones. Black still plays at

, White

, Black

, all of which are pretty natural moves. Will White now play at

or a?