Tsumego From Games 9 / Playing Hane
dnerra: While the Finnish sequence looks very good, I would urgently feel the need to start with a hane. Black 2 is not possible and only shown to illustrate the idea of White 1. More opinions?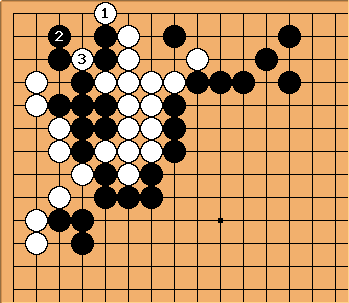 DaveSigaty: I have been playing with this all weekend and have not found a way for Black to survive against dnerra's hane at 1 above. I think that this is a more powerful idea than that on Tsumego From Games 9 / Finnish dan players suggestion. The extra play there seems to have allowed Black more scope for resistance.
Arno: Could you show us two or three main lines of this variation, Dave? By the way, the problem attracted the attention of nomad, 4d* IGS. He found a solution I will post here either tomorrow or later this week.
Dave: Well Arno, as you may recall from GTL, I am not a guy who will post two or three lines when 20 will do as well :-) Let's see what we can make of this whole thing . . .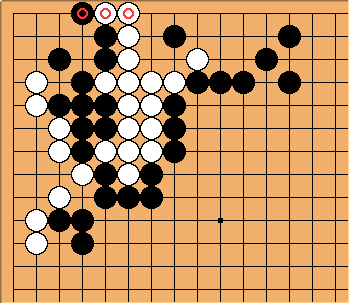 Let's start here (filling in White's liberty) and first of all analyze White's situation at the top while completely ignoring the left.
Nextlet's turn to the upper left and look at some of Black's opportunities.
Arno: Here is another line that seems to refute this line of play.
Bill Spight: I like Dnerra's hane. Here is another play that is worth considering: White sagari.