One-Two-Three example 3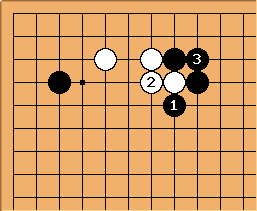 and

in this joseki position were played by Shinomiya Yonezo against Jowa in 1821, 31 January

http://badukmovies.com/pro_games/399-shinomiya-yonezo-honinbo-jowa.
Atari-then-connect may be 'natural' for many players; but in this case simply connecting at

without the

/

exchange is the joseki. You can see this as application of conventional wisdom about the staircase, and the 123 principle.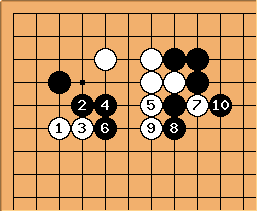 White goes on the attack, with

,

and

which are like a slow-motion driving tesuji.[1] Then adding

before playing

is good style.



is another inducing move, adding purpose to

. After

White successfully went after Black on the top side.
Though he eventually lost this two-stone game, this sequence gives an idea of Jowa's power.
---
[1] Without the atari, White has to be more circumspect.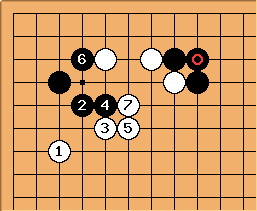 Assuming Black just connects solidly with

, this joseki from the nineteenth century shows White having to concentrate on making sensible shape.
---
Isn't playing atari in cases like this generally considered bad style? Black is forcing White to play at a point that would otherwise be a cutting point, thus Black's atari is a thank you move. -- Andre Engels
Yes; there is probably a rule like 'only play atari then connect when both stones are essential', just because atari will so often be aji keshi. -- Charles