Multiple Ko
---
More generally, several kos can co-exist on the board without being linked directly like the ones above. Normally, kos have a certain value (see basics on kos), but they can be left alone for a while if there are other moves on the board which are more important, or if one side tries to create more ko threats. This means that one ko can exist, but not be played, while the game continues. Later on, another ko can be created, leaving two kos on the board.
A special case is a double ko, where the two kos are both relevant to the life of the same group.
But in general, the kos are not related and are played out independently. Taking one ko as a threat in the other ko fight may not be very useful, since the two kos most likely will not have the same value. If the 'new' ko is worth more than the currently active ko, the ko fight will probably 'move' to the bigger ko, if the ko is smaller, it was a bad threat. Anyhow, the existence of just two kos cannot create repetition without threats being played out as well, and thus creates no problems with respect to eternal play.
A triple ko may create eternal play, but is extremely rare.
---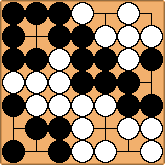 (Source: from a Chinese website, precise URL forgotten) tderz
Bill: This is an example of Moonshine Life.