Kuksu 47 Game 4 Fuseki First Invasion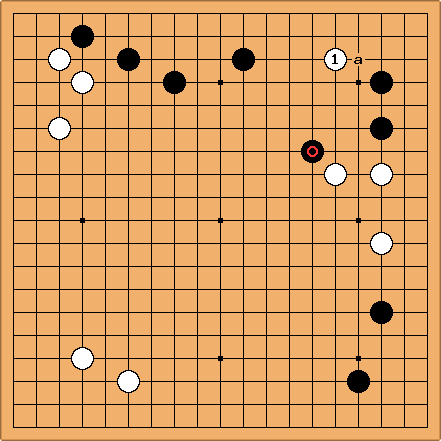 HolIgor:

: In the Yi Ch'ang-ho - Yi Se-tol's game white made the same move that Yu Ch'ang-hyeok made in the game analysed earlier, namely a. Black has got quite a good territory in the corner. Perhaps by a point or two too much for Yi Ch'ang-ho's liking. So, he tries a different invasion this time.
HolIgor: There are 7 more game with the same position in the right top corner on www.gobase.org. They differ very much in what is below or to the left. The plans of reduction of black's moyo are very different, yet almost always unsuccessful. White won only one game in eight. Basically, white cannot suppress black's initiative. Who'd think that black's marked stone is so strong.
---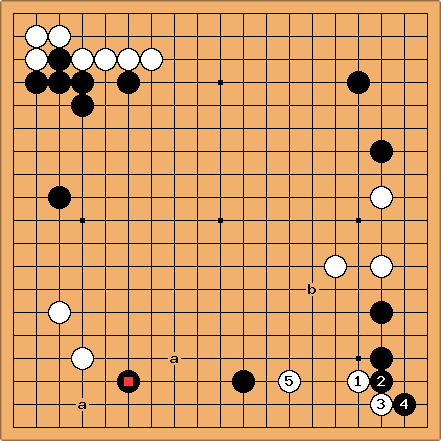 Klaus: The situation in the Kiseon game is quite diferent:
- Blacks group around a is not as stable as in the Kuksu game.
- Black is still open at b so white can walk out here.
- Long ladders will be fine for white in the Kuksu game.
---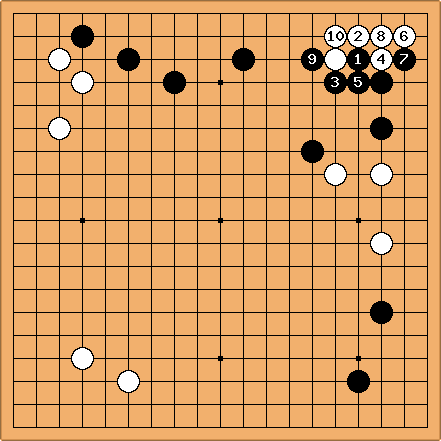 HolIgor:

is interesting. Black allows white to live in the corner taking the influence. Interesting that other pros play similarly here.
Dave: If Black uses

to block in the corner, he can not resist

. I just saw this in a TV game commentary by Oya Koichi (different game unfortunately :-), 7th LG game 3).

HolIgor: Instead of

Takao Shinji played tenuki leaving the corner undecided.
Dieter: The marked stone looks like using thickness to make territory. I can't help but feeling Black's position overall is overconcentrated. Maybe this has to do with my overestimating the strength of the White position on the right. In any case, I expect Black will attack it in some way to make validate his thickness.

HolIgor: I would not object very much. For me too it seems that black decided to play at the top only. The top is now very thick, which makes you think that it is overconcentrated. Yet, I don't see how black uses thickness to make territory. Black is not trying to make a second wall, is he?
Bill: Doesn't cover the weakness at b?