Kuksu 47 Game 4 Fuseki
HolIgor: What happens here is not so unexpected and strange after the analysis of previous game.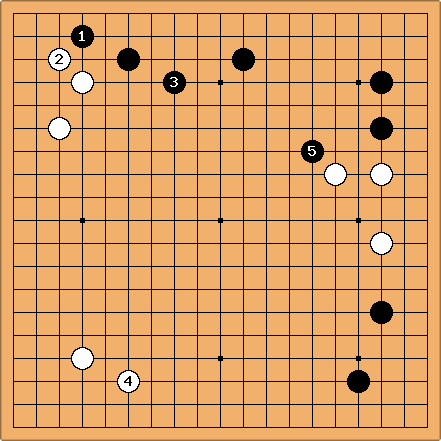 HolIgor:

-

tries to establish settle the top immediately instead of waiting for white's invasion.

is 19 of 29 hits.

is 8 of 19 which is about a half. What are other ideas for white?

is 8/8 hits.
HolIgor: White grabs sente at

making a third figthing unit.
In gobase.org

is registered in two more games. Both won by black.
HolIgor:

is the idea we've seen in the analysis of the previous game, yet we did not follow it. It is interesting to see where does this lead.
Yi Ch'ang-ho faced the position after

about a year ago. His opponent was Yi Se-tol then. Black won that game and one could imagine that Yi-Ch'angho prepared something different. Ch'oi probably knew that game too. I remember watching that violent game.
In the second game of the current Kuksu match this position happened again and again black won the game by resignation.