Keima protecting the cutting point
The keima connection is an efficient shape. It assumes any cutting stone can be captured, typically with a ladder or possibly a loose ladder.
---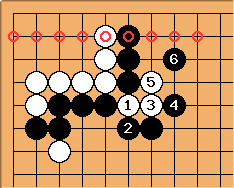 unkx80: Extra line?
Yes, why not ? ;-) we could also be in the center and not in a corner even if these rectangular shapes are much seen in corners
unkx80: Okay... I added the

stone. These diagrams are a bit confusing for me.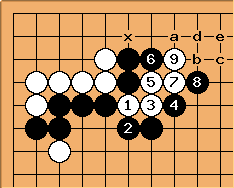 Chaz: Capturing via ladder this way instead of via a net works (provided the ladder is good) without Black first playing at X, regardless of how many more lines are between this position and the top of the board.