Joseki context - different pincers
Original discussion from 3-4 point distant high approach from the wrong direction.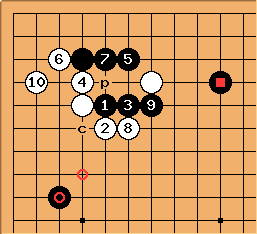 It concerned the effect of the

and

stones on the evaluation of this sequence.


SnotNose Black then leaves this area, possibly playing an approach move in the upper right corner or elsewhere.
Charles I don't think you can call this joseki. I believe the pros play

at p, rather than imitate the Magic Sword main line. That means that this case differs from that one, in which

is moved to the circled point, and

is absent. Cf. Benjamin Teuber / Insei-Game 1 for an example.
DaveSigaty: There is at least one game (between Nie Weiping and Rin Kaiho) where was played. However, the exchange of for is only necessary in the 2-space high pincer joseki and was omitted in the game.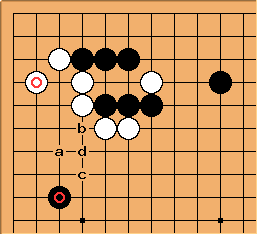 SnotNose This seems quite nice for Black.

The

stone is the last move. Black can play elsewhere, leaving the peep at a (or thereabouts) for later or use the cut at b in some sort of sacrifice tactic. With these in reserve, it seems possible to treat the

stone as light and move on. All in all, in what sense is this a sub-optimal result for Black?
Charles It isn't bad locally. If Black wanted to play for a framework on the left side, Black will not then want to treat

lightly. Imagine Black played a Chinese opening: then this is an odd direction of play?
I'd better perhaps check for this in pro games, before getting myself in any deeper ...
Later: OK, the database says they stopped playing this about ten years ago.
I wrote this up at

http://gobase.org/studying/articles/matthews/fuseki/11/ . Fortunately it still checks out.
dnerra: I agree with Charles that this is bad for black for strategic reasons. However, I have also two comments on the local sequence: The sequence shown is IMHO locally clearly superior for black than the standard joseki. There are two differences: The extension on the upper is usually played on the third line. This is, I think, no big difference. The 2nd is that the marked black stone is usually at c. Due to the two forcing moves at a and d, the position here is better.
On the other hand, I doubt very much that white would play at

in the above diagram. This is a bad shape move (hurting the white stone on the upper side), and is only played so that W0 protects the cut. This is not necessary here, and white will just omit

. Then the local result might be fair, and black is left with the strategic disadvantage.
BobMcGuigan: Another local observation is that the stone

is usually played one line to the right in the two space high pincer joseki so, unless there is something in the upper right corner we don't know about, Black seems over-concentrated on the upper side.
dnerra: Do you really feel this is over-concentrated? The white stone has considerably less aji the way

is placed, it seems to me.
Bob: You are right that the white stone has a lot less aji this way. But I wonder whether this makes the


exchange OK for white now. Also it would depend on whatever is in the upper right corner. If it is a strong white position I probably would play close at

.
---
Snotnose This leads back to one of my original concerns. When, if ever, is this corner sequence (once considered joseki and still played by amateurs) appropriate? Does it depend on the position of the flanking black stones? If so, why? One way to answer would be to search pro games for just the corner sequence and catalog the positions of the pincer stones. Of equal interest are follow-up moves.
Charles It will always depend on any adjacent stones already present: certainly within a 10x10 square, and more generally (see joseki context).
Snotnose One of the diagrams on 3-4 point high approach, two-space high pincer, ogeima has a corresponding statement that "

is of course not played if Black already has a stone in the area."

, as it turns out, is one diagonal space different from

.
Charles The

comment was added by Andre Engels: I'm not sure exactly why. In fact that particular extension isn't something obvious at all, for distance. This needs to be dealt with by some more 'extensive' discussion.