Gokyo Shumyo, Section 1, Problem 70 / Solution
Main line: Hashimoto Utaro
Variations: Bill Spight, Dieter
White plays on the leg side, on the second line. White lives up to

. If next Black a...
White can play atari at

and Black can't connect at

(oshitsubushi).
---
Bending in from the side without the leg leads to ko. If Black wins the ko, he almost fills White's eyespace with a bulky five. The points a and b are miai for that purpose, and thus serve as a ko-threat for White: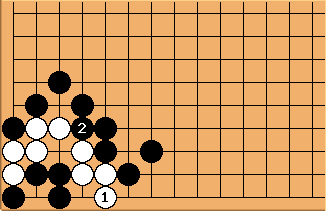 is a ko threat. If

fills the ko,

makes seki.
---
If Black plays a, White captures to make a living big eye. If not, White makes seki at a. Let's discuss this at /Discussion.
White must win the ko to be able to approach at a.
---
Go to Problem 71
Back to Kanazawa Tesuji Series