44 Point, Low Approach, Low Extension, 3-3 invasion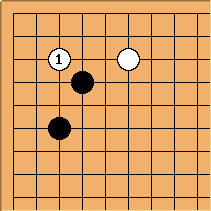 Typically, invading the 3-3 early in the opening gives White a cramped position. Black gets thickness and White only a small territory. However, such an invasion can be very severe during the middlegame if White is very strong on the outside.
Typical invasion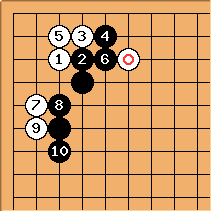 This is a typical joseki. Note that

here is very safe, so this joseki is recommended if Black does not want any complications.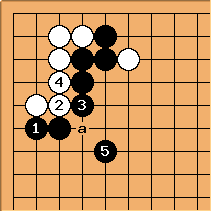 Black can also play

here, completely shutting in White. Of course, this might look better for Black, but the question is whether

can cut at a.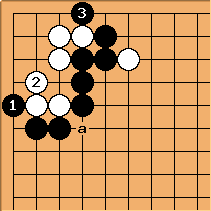 Of course, there is a life-and-death issue here. If

in the previous diagram tenukis, then

and

kills with a L-group. However, White has a four to five space big eye here, plus possible captures, so this White group has a lot of liberties. Depending on the stones in the vicinity, the cut at a may be possible.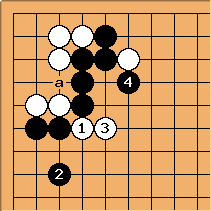 That is to say, it may be possible for White to cut first, leaving Black with two weak groups, before returning to live at a.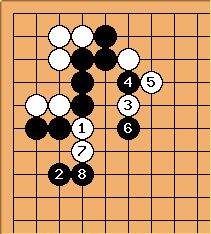 Bill: Well, I have a book that shows the cut, Suzuki and Kitani's Small Joseki Dictionary. Voila.

and

are tesuji.
---
Alternative invasion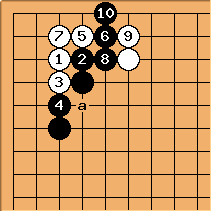 If White is very strong on the outside,

can be very severe. Note that

invites damezumari, but also creates a cutting point at a.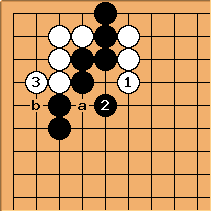 Whether Black needs to defend at

depends on whether the cut at a works. Note that

is played here instead of b to avoid L+2 group with descent.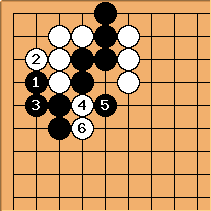 White's previous moves are played in the premise that

and

works. Of course, there is a ladder involved, and it must not work for Black.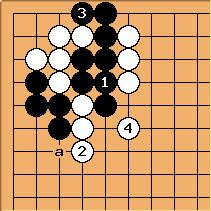 connects.

is the simplest move. If Black insists on killing the corner,

seals him in.
If Black moves out with

, White turns at a and captures four stones.
Depending on White's support, other moves like

at a are possible.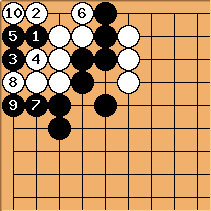 Note that for this variation of the invasion, Black can seal White in with sente. If White is not very strong on the right, then Black can then attack the three White stones on the right.
---
Desperate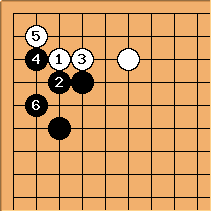 If the surroundings is really very hostile, black can choose to play sabaki and build eyes. But this is definitely not meant for normal play.
---
See also