3-4 point high approach, three-space high pincer
When

is the chosen pincer here, White (in pro games) as often as not ignores it (see 3-4 point high approach three-space high pincer, tenuki). When White does reply here, White at a is most commonly played; after that, White at b.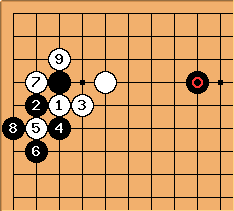 This normal variation of a 5-4 point joseki, played in the presence of

, was adopted by some top players having White in this position. After

Black has sente and

is at a safe distance from White's strength. It is known for Black to play

at

to avoid this result.