The Most Basic Bits
These are the things that you should learn to see really quickly because they either form the foundation of more advanced techniques, are extremely common throughout the kyu ranges, or are not typically seen from players better than 20 kyu (advanced beginners).
Common Mistakes and Traps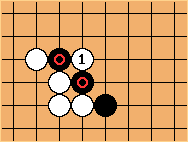 By playing

, White simultaneously ataris the two marked black stones. This is the disadvantage of playing too many diagonal plays while up against your opponent's stones.

Second Line Traps
The second line is dangerously close to the edge of the board. When playing on it, be aware that you can get chased into the wall quite easily.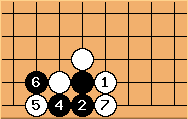 Captures the black stone. While extending at

is technically basic instinct, Black is merely throwing stones away. Even if White plays

elsewhere, Black cannot escape.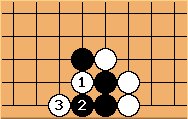 This kind of play shows up generally in the endgame. Despite the fact that

places

in atari, White captures with

.

[Shortage of Liberties] Traps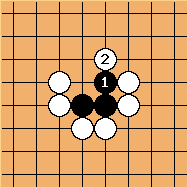 These Stones cannot escape. When they extend with

, they still have only two liberties and can then be put in atari with

.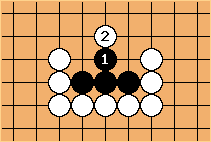 These stones are similarly plagued. They cannot get out. As it turns out, these stones can't even escape if they have a stone at

(see the Crane's Nest)


The initial black stone is caught in a ladder. Unless there is a black stone on the first or second line to which the black group can connect, White can chase the line of stones to the edge of the board and capture all of them.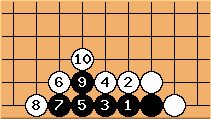 White can also capture the black stones in a net with the sequence up to

if there is enough room (

and

can be played in any order).
---
[1] Corollary: The double-hane on the second line can also result in really bad things.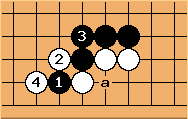 White can capture

with the sequence to

. Remember, however, that a cut remains at a and is the source of many tesuji.