Walkie Talkie Eight In The Corner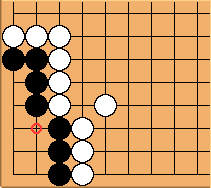 This is a walkie talkie eight in the corner. It has a cutting point at

. If black has no outside liberties, white can make seki in the corner.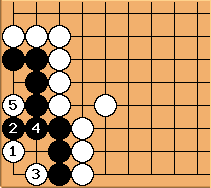 If Black lacks ko threats then a seki is the best he can get.
Under Japanese rules this group counts as one point for Black, because

may be captured at the end of the game.


Ko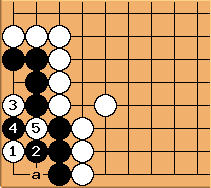 Bill: If black is komaster he can play at

and after

this position is a throw-in ko. Either player can make the ko, but the other player takes first. If black plays elsewhere (tenuki) White can start the ko by playing at

This is slightly preferable for Black if he is komaster.

Mef: After

if Black ignores, can't white play at

for a favorable ko?
Bill: Black shouldn't play

if the ko fight is favorable for White. (The ko is favorable for the player who can win the ko fight.)


Failure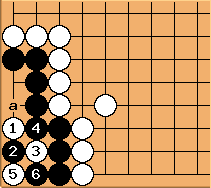 This White

is a failure, after

White's position collapses. Black can make two eyes by capturing at

or playing at a.
---