Sada Atsushi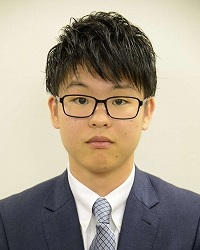 Sada Atsushi (佐田 篤史, born December 24, 1995) is a professional player of the Kansai Ki-in.
1p 2012-01, 2p 2014-01, 3p 2016-08, 4p 2019-06, 7p 2020-09
His 2022 game against Tang Weixing was

reviewed by Michael Redmond.
The jump promotion to 7p he received was due to having qualified into the Honinbo league.
He's won an award for most consecutive victories. He also received the Risen Prize and Nagai Prize. [1]
The site

https://osaka-kodomoigo.com/ is listed as his "HP・ブログ等", which could be guessed to mean HomePage.
[1] Interpreting the text 利仙賞 2回 連勝賞 1回 永井賞 3回. Not sure whether to interpret 回 as edition or place (or something else) in this context. The Risen Prize? (利仙賞) is a Kansai Kiin award named after Sekiyama Riichi, who took the name Risen as Honinbo. The Nagai Prize? (永井賞) is probably named after Go author Nagai Todonori?, who cowrote the book Igo Hitoriannai in 1889, since he's the only person of that name mentioned on SL.