Ladder strategy
Moved here from Messages to people currently present in the Library.
This may be a very elementary question, but is there a reference to a standard "set" of moves to set up an opponent into a ladder. For example, how to approach a single stone to do it.
Another problem, when approaching the 4-4 point before, I would be concerned about which side of the board I would like to stake out as my own. Now I see I need to think about which side of the 4-4 to play, and whether it is low or high to determine which way I approach the opposing 4-4 corner. Wow - smack on the side of the head - This is Fun. Maybe I need to play in the center so I don't need to worry about this!
Charles As for ladder strategy, that to some extent still seems to be a 'trade secret': no one really writes it up.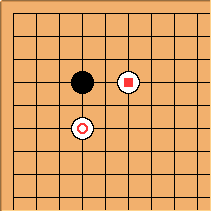 One idea that recurs is this:

+

is the most severe of all the double approach to 4-4 combinations. Therefore White would often choose one of those plays as ladder breaker in this corner.


This you can see in games of Go Seigen, Cho Hun-hyeon, Cho Chikun, amongst other greats.
kritz thanks Charles - your trade secret comment makes me think I asked the right question. Looks like it is time for me to review some games!
kritz It looks like the pages attach-crosscut or atari-cross-cut? or cross-cut then extend page describe the basic set of moves. charles Are these what you were referencing as the "trade secrets"?
Charles Not really: there are a number of such standard shapes, but I was thinking about the strategies for exploiting a ladder when it's there.
---
Charles An instructive example from the recent opening game of the 28th Meijin match. Black was Yoda Norimoto, White Yamashita Keigo.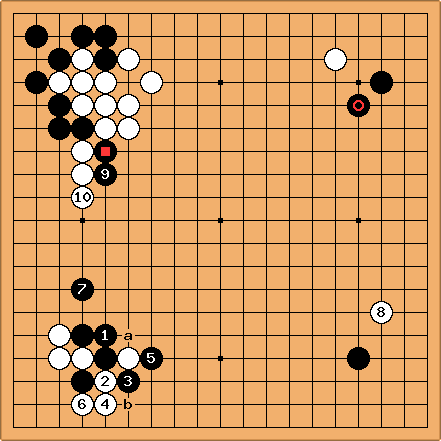 White initiated the taisha in the lower left: that implies a number of ladder questions. The connection

assumes a good ladder. The key point here is that

not only makes a ladder for Black, it is hard for White to play a good ladder breaker against it.


That explains

. Normally Black simply captures at a.
-Jasonred : Pardon my ignorance, but why capture at a, (normally)? Why not play a large net and go for more influence?
-Alex: Good question, and one that most kyus probably wonder about. The short answer is that taking a ladder stone off the board and making a ponnuki almost always gives more influence, rather than less, than playing a close ladder breaker, since the latter will generally allow the opponent one or more forcing moves at some point. Here, it's an extreme example, as a close ladder breaker allows White to force at b, leaving Black very overconcentrated (because his ladder breaker is now uselessly close to a ponnuki) and open on the lower side. The only time I would resort to a close ladder breaker rather than the ponnuki is if the ladder breaker also served a fairly urgent dual purpose, like protecting a cutting point.
Presumably White felt it was too passive to play

to capture the

cutting stone.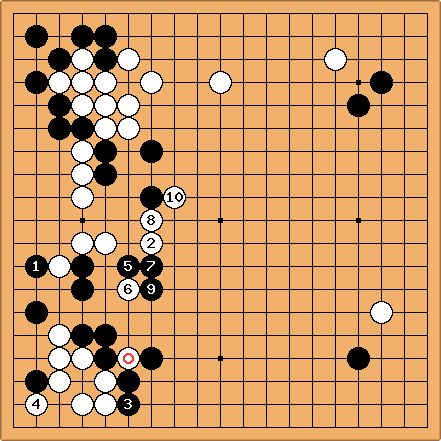 Black manages to capture

as part of the fighting: quite a gain in efficiency.


---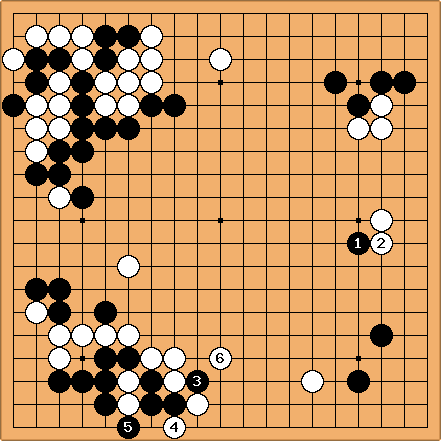 Inoue Ansetsu played the shoulder blow at

to set up the cut at

. Now White, Hayashi Genbi, could not capture

in a ladder.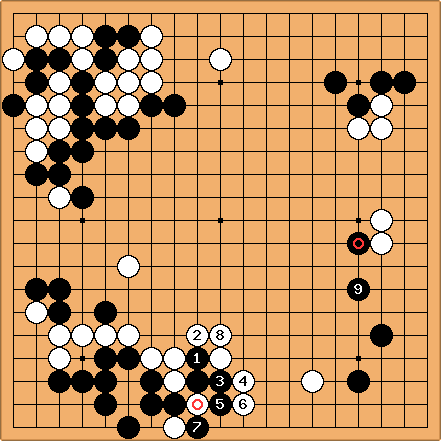 Next, Ansetsu captured the

stone in sente and came back to play

. Note how the shoulder blow (

) not only prevented the ladder, but also works with

to reduce White's moyo.


---
See also /Discussion.