Hane At The Head Follow Up/ Discussion
1. Cut
aLegendWai: Would you mind to explain why the follow-up is important? You may illustrate it by artifical examples or real games (After the response of the question, you may delete the question.)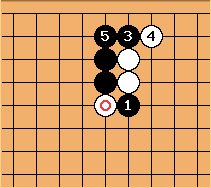 Rakshasa: Now black is solid while white has cutting points.
---
aLegendWai: It is said to be generally bad in one book. On one hand, it is not more severe than a double-hane. On the other, it is not safer than a solid connection at a (This shape still leaves a cut at "a").
But if surrounding situation favors, it is surely an option.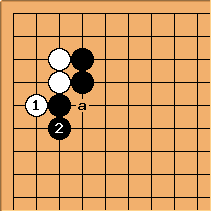 Rakshasa: A game consist of more than those 7 stones in the middle of the board. Does this look familiar? It's only generally bad if... if a lot of things. It's a good move in too many situations to be "generaly bad".