Hane at the Head in Joseki 1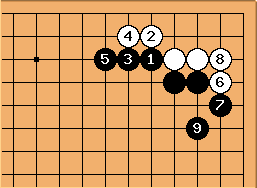 As an example of the value of the "Hane at the Head of Two Stones" proverb, we look at this corner position.

and further are joseki (see 4-4 point 3-3 invasion joseki). Black gets a lot of thickness, White a modest amount of corner territory. Now see what happens if White is the first to play in this position.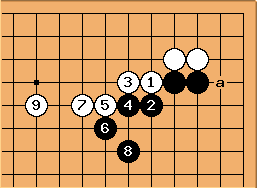 Now the position looks radically different. Instead of Black making influence, White does. White is making fifth-line territory as well. Add to that the trouble Black will have dealing with White a (understandably - when hane at the head of two stones is good, then hane at the head and the foot will be even better). The only conclusion we can draw, is that the difference between these two diagrams is too large to allow the opponent to get what is yours in this position.
---
Authors : Andre Engels, Dieter (in the process of a WikiMasterEdit).