Eratos
I consider myself to be a complete beginner currently, but have set my rank on IGS to be 26k in order to get the rating system to catch my games. I haven't yet played Go on a real board face to face, but I'm learning with a mate from uni (IGS username Odin) and I seem to win more often than not, maybe I should start giving him handicap stones? :)
I recently also started playing on KGS to compare the two, and have a 26k rank there after my first game.
Real name Paul Smith, I'm a PhD student at the University of Exeter, living in Newton Abbot (in Devon - South West England), disappointed not to find a nearby Go club. If there are any other Go players in the Devon area please let me know!
There isn't even a board game club in Newton Abbot, so I think I'm well and truly without players here :(
---
Hi Eratos - there are a few players around near Devon. Maybe you should try and bind them together into a club? Failing this there is always the British Room on KGS.
OK - if you're a player in Devon, why not add your name here and I'll see what I can do - of course I don't know how a Go beginner would go about setting a club up, unless a single digit kyu player also turned up and was willing to provide insight :)
List of players in Devon
Me - Paul Smith, Newton Abbot
Steve Worland, Exeter
---
unkx80: Question moved to BQM 47.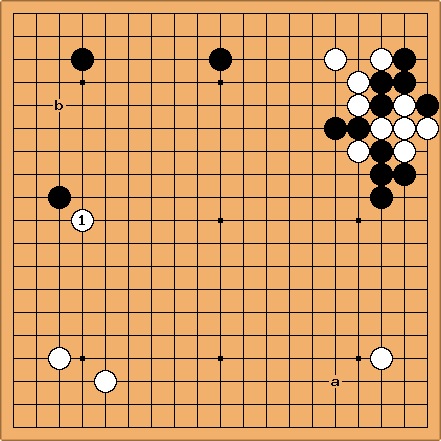 Having already messed up in the top right corner, any comments on the relative 'bigness' of playing

at a? Or somewhere else completely?
Rich: There's still potential (maybe a ko) in the top right, which of course you should save until you see how the rest of the game develops. The big moves now look to be a, or an invasion in the top left. If white plays a, a move around b (give or take a space) looks big for black. If white were ahead in territory, this would be OK; but if you're behind in territory, you need to fight. I'd be looking somewhere around b, as an 8 kyu.
---
Personal stats
Favourite opening: Usually I open by putting a stone on the board. Sometimes however I open by letting my opponent put a stone on the board.
Other Games: I love playing the game

Tantrix, I run a turn based (i.e. not real time) chess server that my uni mates play on, but they thrash me on it.
---
IGS Ratings
On the subject of Go rating on IGS - what exactly do you have to do to get a rated game? From the help files, I get the following list:
Play 19x19 - Check
At least one player in the rating system or at least 26k - Check
Difference between handicap given and handicap required not more than 3 stones - Check
Yet I still only have 1 games showing up as rated! Where am I going wrong?
Nacho: At least one of the players has to have an '*' next to his rank. Also, games don't appear in the 'rated' count until the server processes the day's results.
Eratos: I see - so to have a game rated, one of the players must have an established rank - I wish they made this clearer in the help! Think I understand now - thank you very much!
I've recently started playing on KGS as well, the rating system is much easier to get into there! Just play a rated game (i.e. 19x19) and you're off! The even produce these fine and dandy rating graphs - very handy.
Now also playing on DGS - they also produce rating graphs! Yippee!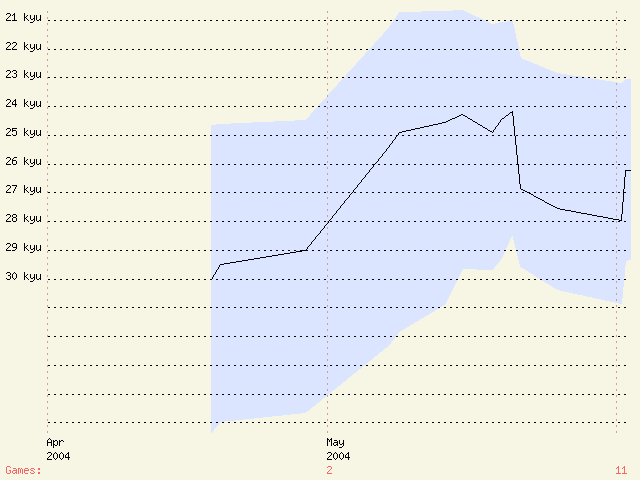 ---
---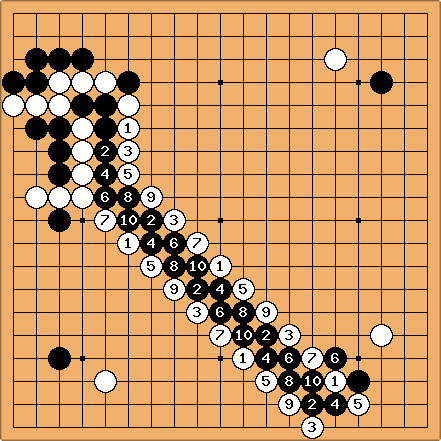 Rich: It may look broken there, but it's not... need a hint?
Eratos - Oooh ooh, I think I see it...
Rich: Nicely done. :P