Dieters Study Of Otake Game 3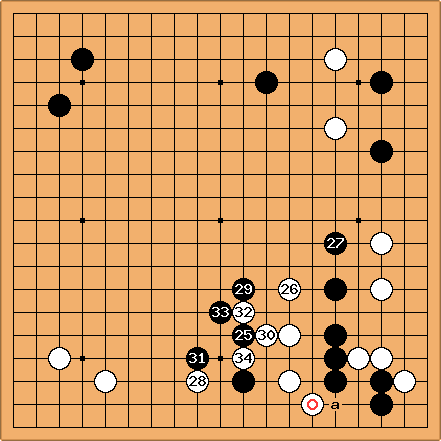 This is from a game against Hayashi Yutaro.

is a typical ikken tobi as a reaction against

. This is a place where I can learn from Otake-san. I would definitely react at a. Next White cuts through the ikken tobi: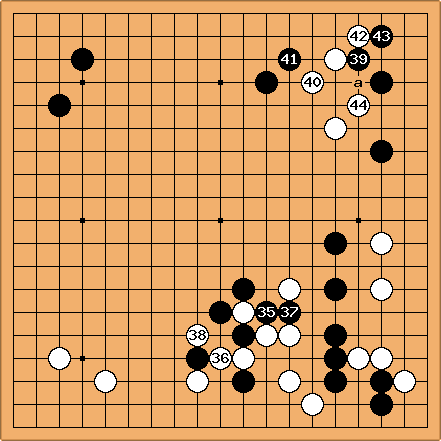 But of course Otake likes the influence obtained after

. Hayashi however seems to have a similar style:

is a seemingly slow response, but it will show its effect much later in the game, which is typical of thick play. Black then uses his thickness to attack at
.

is another pro technique. Amateurs would atari at a immediately, but this move is true sabaki.
After thinking about it, I can't tell how

helps make sabaki as compared to the atari. Can you explain? Hyperpapeterie
To me

looks as if White offers an exchange. Black doesn't take the bait, so White plays the atari nonetheless. If the atari is

I wouldn't be surprised at all. Tapir.
Dieter: see the discussion below.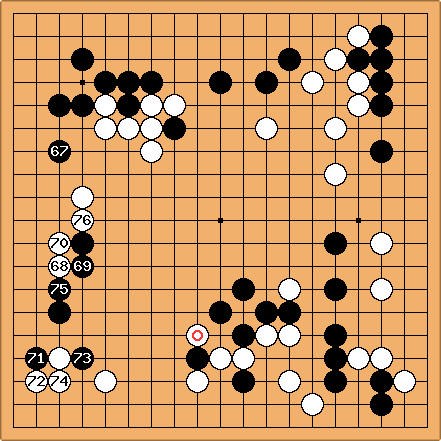 I was surprised by the territorial move of

. I feel Otake overestimates the thickness of his lower central group, which is badly affected by

.

launches a painful attack (in my opinion).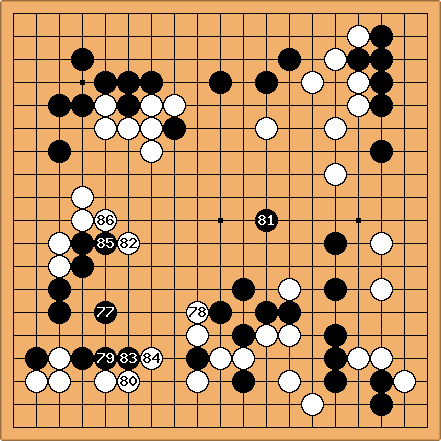 With

, the overall weakness of Black's position becomes apparent. At least Otake seems to admit such problem with

. Then comes the empty triangle of

and its being reduced to 2 liberties by

, which must have hurt terribly to stylish Otake.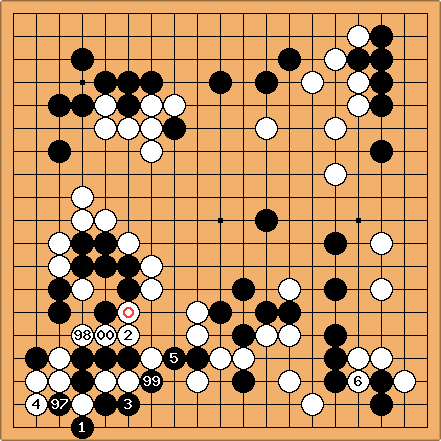 The cicada sheds its skin !!! The bad shape lump is sacrificed in favour of a stable position in what once was White territory. This furikawari may be slightly advantageous for White in terms of points, Black's overall thickness has been greatly improved. He can again fight with hands free.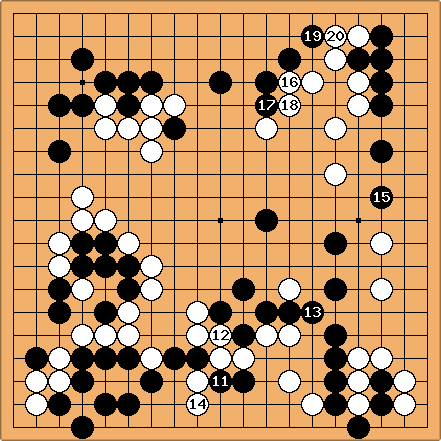 At

Otake seems to overestimate his thickness once more. After

there is a ladder at

, so he has to come back there.

is rather painful.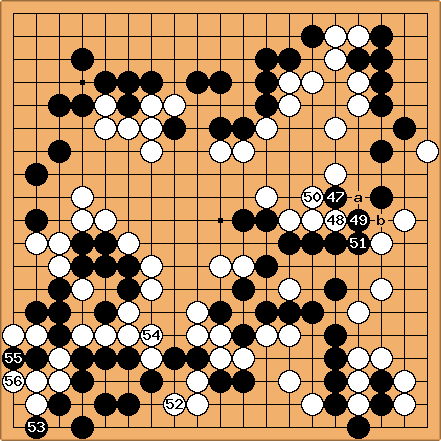 -

is a nice technique. Locally, a and b are both not likeable to White. Then

looks like a mistake to me. Black sets the aji at the lower left into motion.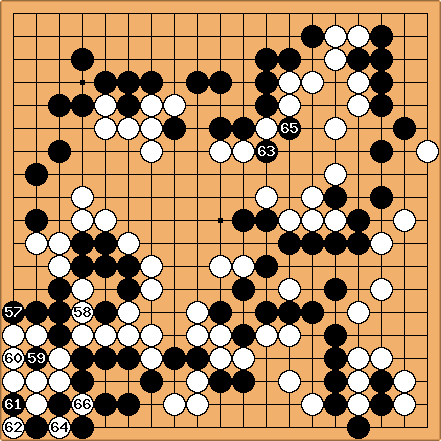 The ko is heavy for both. Black uses White's top group as a ko threat reservoir. Both

and

capture through.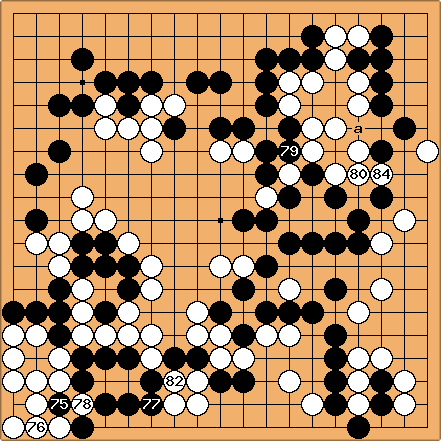 When the dust has settled, Black lives at the bottom and has captured 5 stones in the centre. White has not gained as much with the cut at

. Moreover, the white top group is still not entirely safe.
Eventually, Black will lose a won game through a blunder in the late endgame.
I believe this game was a display of a still young and unaccomplished Otake. His thick style is already apparent, but he was overly confident in his thickness. He made two mistakes regarding what he had evaluated as a thick position. The first mistake was solved through furikawari, the next through a ko, turning the tables twice and giving him a comfortable lead until the last moves blew it all away.
---
Discussion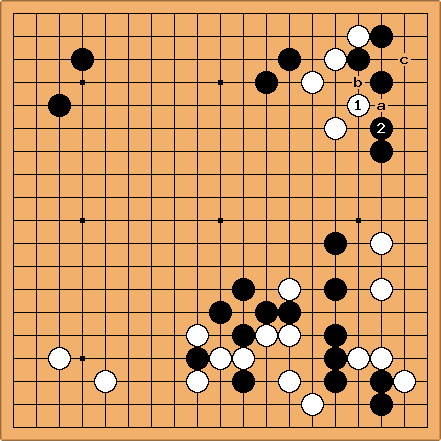 If

here in response to

in the game, I believe White has more options for sabaki.
That's how I see it, but Hyperpapeterie's suggestion of an offered exchange may be the true reason.
Tapir: The suggestion was mine actually. I like your explanation better, however.