cut to gain a liberty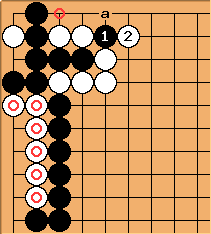 Alex: There is a capturing race between the Black group in the corner and the marked White stones, playing a cut at

gains an effective (fighting) liberty for Black in sente. White obviously must respond at

, but will now have to add another move at a before being able to play at the circled point to fill a real external liberty.
Of course, White could not normally play at the marked point without playing at

, so it may appear that the cut changes nothing. However, since this is a capturing race, it is important to realise that if White plays out all the necessary moves in the corner first, then she will eventually be able to play at that point as an atari and Black will not have time to cut anymore. It is therefore important for Black to remember to cut at some point earlier, although the exact timing is generally not very important.