bite off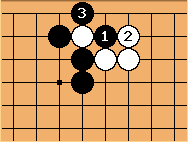 and

bite off a stone. The Japanese kami-toru (噛み取る, lit. "chew-take") could also be translated as chew off or perhaps gnaw off.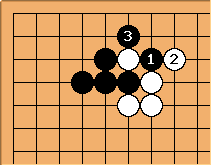 The stone being bitten off need not be on the second line. In this example from the attach-block joseki,

and

bite off a stone on the third line.
---
For some reason, this term has never entered the English go lexicon, even though it is much more expressive than merely saying capture, which is how most English speakers would refer to the situation.
---
The initial move itself, the one giving atari, is sometimes called clutching, or, in the Fujisawa Tesuji Dictionary, "gripping a stone".