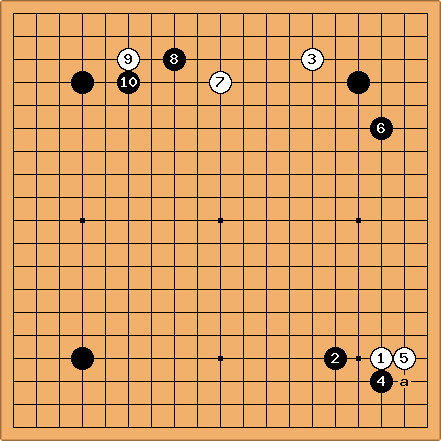 HolIgor:

is not a good shape. It does not promise eyes, it is on the second line. Black could get several forcing moves here, improving position.
AE (Andre Engels): Normal is

at a.

: Orcun: I played high because I wanted an instant response and I thought i should go for influence in this game.
HolIgor: Good move.

: Orcun: I was aggressive or you may call stupid!
HolIgor: There are yet many good points to play before the invasion. It is too early.

: Orcun: Black could have played tenuki if it was not for

.
---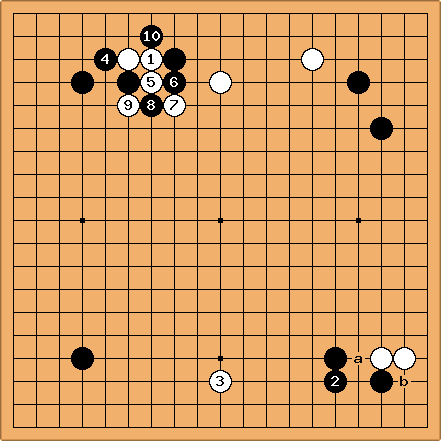 : AE: Strange shape. Correct would be a or b. Also this is not a good moment to leave the upper left.

: Holigor: Overoptimistic. Black had to start attacking white stones in the lower right corner building a wall and then press

from the left.
AE: I don't understond your comment, Holigor, but I do think white would better try to do something with his two stones in the lower right first.

: Orcun: Black overconcentrated the upper left corner but still it was not enough to secure that group.
HolIgor:

is simply bad.

-

: Orcun: I thought I could take advantage of this over-concentration by going for the influence.
HolIgor: Correct.
AE: White can be happy about what happens in this corner.
---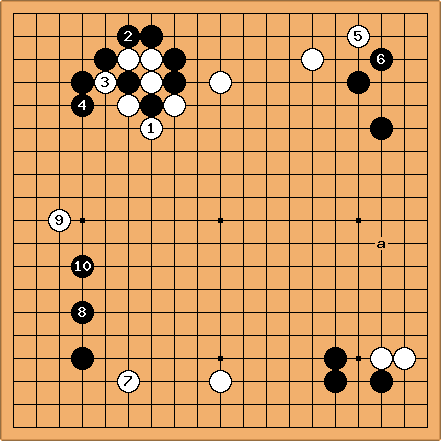 : Orcun: Black should consider a.
---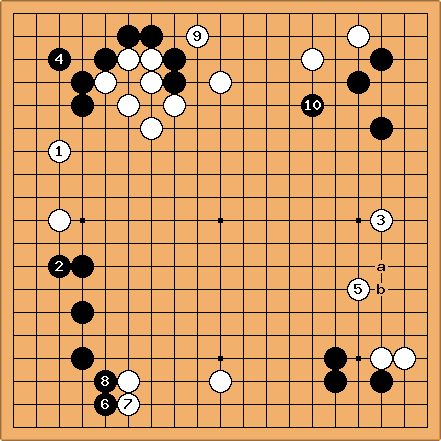 : AE: Too shy. Black should have played

in the previous diagram here, but now

and

in the previous diagram overlap terribly.

: AE: A more quiet extension at a or b seems better.

: Orcun: So small for the left side and does not secure the upper-left corner.
AE: Indeed bad.

: AE: Good.
---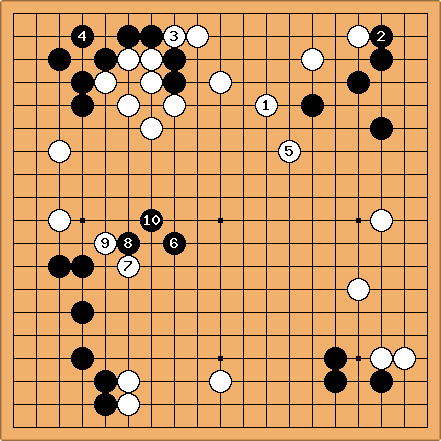 : HolIgor:

leaves a hole behind. Not a good shape.

: Orcun: I really wonder what do you think about this move. It seems like an effective move at the end.
HolIgor:

is not bad. Not in my style. I would make sure my groups are settles before plaing this, but nevertheless, it is a rather good move.
AE: I would never play it. Not my style either. Still, it's not a bad move. It's the right move, probably, but not the position to play it.

-

: Orcun I thought that

was a bit premature and high , so I tried to connect underneath. I did not hope to connect but I could still gain a lot while black trying to prevent. Actually, in the end it looks like I have connected seemlesly.
HolIgor: Black had to attack the groups at the left and at the bottom preparing the erasure.

has to cut. Black's position is very bad at the moment. Black wasted too many moves in the upper left corner gainning almost nothing. But the fight was possible yet. White has compensated for the handicap stones. The game even at this point.
AE: I agree that

should cut. Also, this is strange shape. I'd say the positions are approximately even - white has more influence, but black is thick and solid.