Basic Instinct Counterexample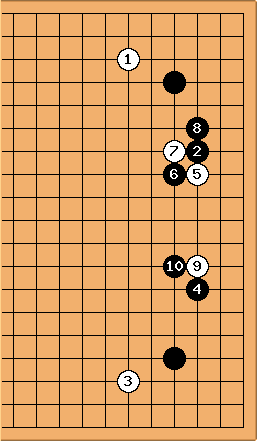 This diagram is from a game between Honinbo Dosaku against Peichin Hamahika and is featured in the book The breakthrough to Shodan. All of the moves are according to Basic Instinct or any other common sense play (proverb). The problem with the moves is that they seem to be automatic, without any thinking and also too submissive for this 4 stone handicap game. The diagram is not the actual game: Black did not fall for the trap.

and

follow the principle not to be fenced in.

and

follow basic instinct to hane against a contact play. Both

and ...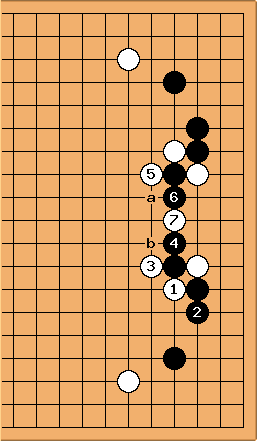 ...

here extend from a cross-cut, the basic instinct pr proverb that should be followed with much caution. Both

and

stretch from an atari, both of which are almost unavoidable.
Suddenly, Black is surprised by the splendid tesuji of

making miai of a and b. Such surprising move relies on higher thinking such as miai and on the courage to defy common sense and defeat basic instinct through exquisite reading.
This counterexample does not show that basic instinct is wrong most of the time, but that it is sometimes, and that Go cannot be solved by a set of simple formulae.