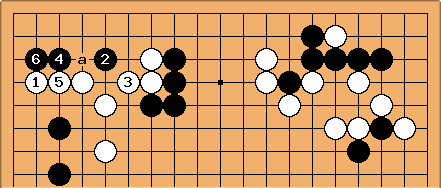 Alex: There are many variations, but unless I've read wrong, Black trying either

or

at a fails, so his best attempt at this. Now,

at a either lets Black live in the corner or gets White into a capturing race she can't win, so...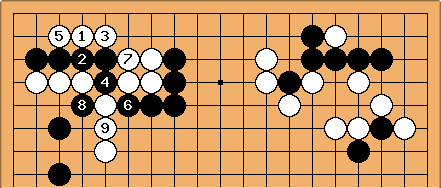 Alex: Black loses the capturing race. Of course, this assumes that the Black stones on the outside are already alive, because Black can play

at

and connect through that way. If Black invaded before the outside was safe, however, White would let him live in the corner in gote and strengthen herself outside to continue attacking.
Still, although White keeps the corner, this is bad aji, because

at

will still cut off the outside stones. White must make sure they get strong enough during the attack that they can take care of themselves.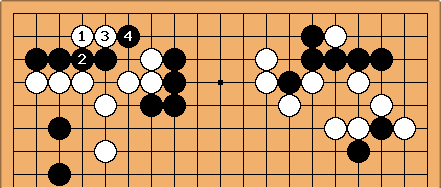 tderz: Black

offers more resistance to White's clever counter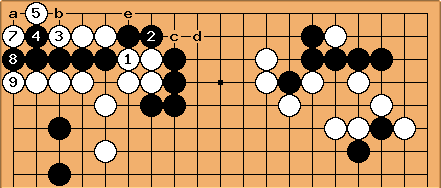 tderz:

at

is not good for White


=a (better not at b)
I forgot the correct terminology for this type of ko.
White has 2 internal ko threats at c and e.
However, Black could also chose to neglect the 1st one (c) and take at b...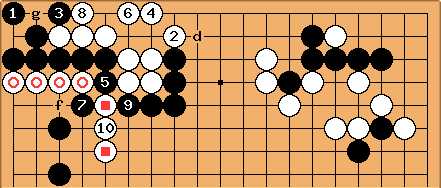 tderz: ...after Black has another - more interesting(?) ko (White

and

cut off).
However it is a Yose ko which he has to win twice - very expensive.
Perhaps there are other variations to investigate.
---
[1]
Bill: Because of the weakness, I was thinking about Wa or even Wb. After seeing this page, Wb starts looking better.