Angle play after diagonal attachment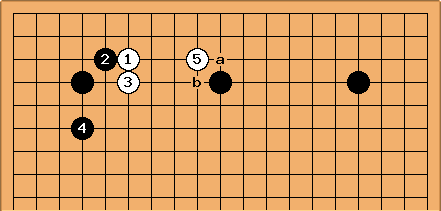 The problem is with

. I (Charles) see this often when White enters Black's sanrensei. Black can get good territory by playing at a; while in a handicap game playing at b for influence is also good.[1]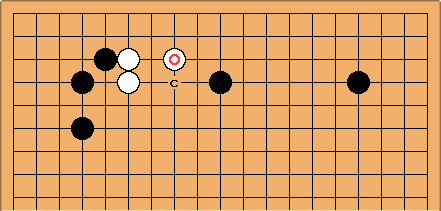 If White really wants to make a base, playing

is better. The common play is c, but that can mean that White is driven out into the centre.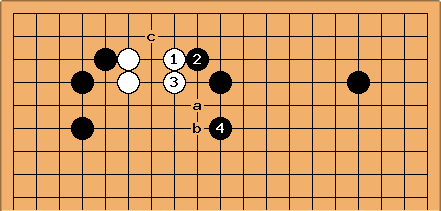 Fhayashi - This is suggested in The Power of the Star Point
Charles

is fine, but

is a bit heavy: try at a (or even b) instead.
Andy: Doesn't give white the opportunity to make Immediate Life with c?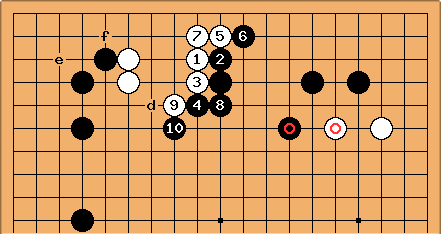 From Takemiya Masaki-Jiang Zhujiu 1988-08-21. Here

takes into account the earlier exchange of

and

to the right. White lives quickly (White 11 at d) and claims that Black is a little overconcentrated to the right. In return, Black can claim greater security on the left: to invade at e and get the answer Black f is seemingly a bad idea for White, seriously weakening her side group.
---
[1] Why is

bad? Please show an example.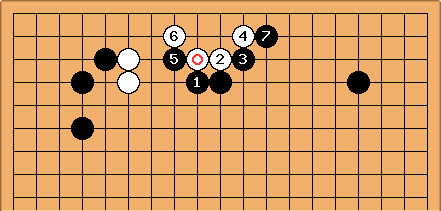 In answer to

, Black has a choice of playing at

in this diagram, or this sequence to give White bad shape.
---
see also