Alcohol and Go
Alcohol has been observed to have a negative effect on the human brain, and its ability to react to outside stimuli. Since many go clubs meet in pubs, this puts those who enjoy a drink in a quandary.
Effects relevant to go
The Wikipedia article

Blood alcohol content gives, dependent on blood-alcohol concentration, the following effects which may reasonably be expected to impair one's play:
from 0.3 ‰: decreased inhibition, impaired concentration
from 0.6 ‰: impaired reasoning and vision
from 2.0 ‰: loss of consciousness
from 5.0 ‰: high possibility of death

(A concentration of 0.3 ‰ is approximately the result of one 'standard drink' for a 70 kg woman or a 60 kg man.)
The actual threshold also depends on the individual; in particular someone habituated to alcohol will usually function better at a given concentration.
While impaired concentration and reasoning (and memory) are evidently detrimental to reading, one may also speculate that a loss of inhibition may weaken the discipline needed to play at one's best. Impaired vision may also make whole board thinking harder, particularly for weaker players, while unconsciousness and death could well, depending on the rule set, lead to a loss on time.
On the other hand, a timid, submissive player might conceivably benefit from mild euphoria (from 0.3 ‰), if their reasoning is not seriously affected.
Famous Go players and alcohol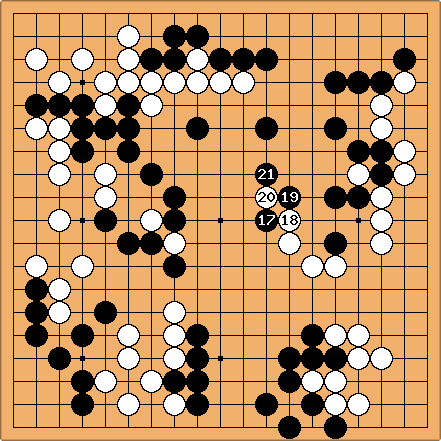 Honinbo Genjo (1775–1832) was fond of good sake; it may have affected his move 119 (above) in his game of the 17th of November 1804 against Nakano Chitoku:

   "Black 19 is a little bit odd. If … at 20 Black gets over 10 points … in the centre … White…20 … is quite a nuisance. … Maybe he'd been at the bottle.
   It seems that our Honinbo Genjo was fond of the choicest sake … no matter how hard up he might be, Genjo never missed his daily sake".[1]
Onizuka Genji (6-dan, d. 1856) was "notorious for his addiction to sake"[2]
Ito Showa (1801–1878) "was very fond of his sake. … (not) a hard drinker, but … a drink with every meal. … mainly to forget his cares and worries, (which) didn't take much …" "… one day a pupil … said he had vowed to give up alcohol for the sake of go. … Showa is said to have replied in front of the other pupils 'Yes, it's not very good to be too fond of sake. But a full-blooded young man has to drink like a fish and eat like a horse. It is all very well vowing not to touch alcohol again but, mark my words, you're not going to be famous.'"[3]
Fujisawa Hideyuki (1925–2009), the first holder of the Kisei title in Japan, famously drank and gambled throughout the year, sobering up and getting in shape for the Kisei match...reputed to have said that he needed to win only four games a year...the four required to prevail in the best of seven Kisei.

kb: James Kerwin confirmed this on 11/8/2008 – he and his wife knew him personally.
See also
Notes and references
[1] Appreciating Famous Games © 1977 by Shuzo Ohira translated by John Fairbairn, p. 95
[2] Appreciating Famous Games, p. 179
[3] Appreciating Famous Games, pp. 274–275
Discussion and comments
Patrick Traill: I have the frustrating impression that at age 67 my go (and other reasoning) is affected much more immediately, severely and for longer by alcohol then when I was younger. It may, however, be that my problems have been exacerbated by a period of about 25 years in which I barely played or even thought much about go (see also: Rust) and in which rankings may conceivably have deflated. Have others had comparable experiences?