A pathological seki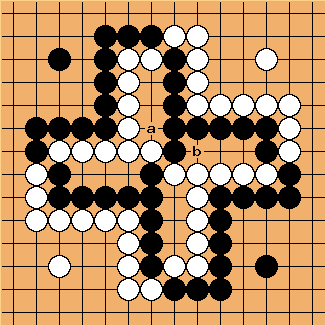 If Black plays on a, White answers on b and Black loses the capturing race.
I don't know whether this is a classic strange position or not. It doesn't seem likely that such things could appear in real games. I stumbled across it years ago while trying to construct an algorithmic definition of seki. (It convinced me to work on something easier.:-) I think it's interesting as a suggestion of how to create sekiish positions with arbitrarily large numbers of shared liberties. — WilliamNewman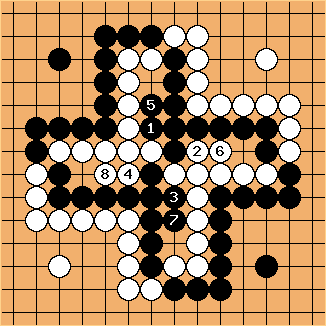 I think the correct way to continue is this, resulting in an "ordinary" seki. Weird position, though. --Dansc
I don't see why that move

is the best move for white. Why not play to reduce the liberties of the weaker black group, instead of the stronger black group? After all, if white can capture the weak black group, the stronger black group has no eyes and will die. Thus, why not play

at

? After that, the upper right black group has only three liberties, while the white groups have four liberties each, so it seems as though black should lose the capturing race. -- WilliamNewman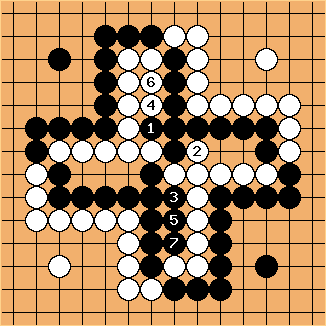 Bill: Nope, but he does lose sente.
WilliamNewman: I have since found somewhat similar shapes

elsewhere