4-5 point 4-3 approach ogeima, contact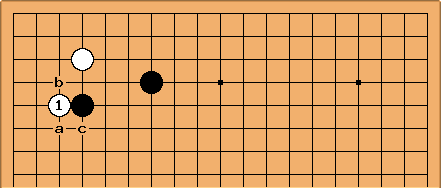 After the 4-5 point 4-3 approach ogeima, the contact play at

may look like an obvious choice but it is not considered joseki [1]. White may expect a-b-c for a peaceful result but Black can cut at b instead, leading to a fighting variation which is in his favor.
This play occurred in game 4 of the famous sanjubango between Shusaku and Ota Yuzo, where Shusaku as Black won by resignation in 167 moves, despite being "tricked" by Yuzo's ogeima[2].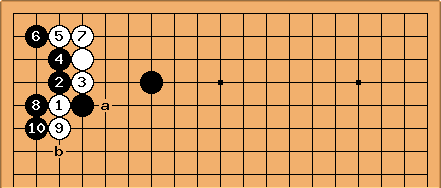 If the diagonally opposite corner has a ladder breaker

may be played at

directly and White can get a good result.
Otherwise, the moves here are almost forced. Now White may choose between a and b but neither gives a good result.
Variation a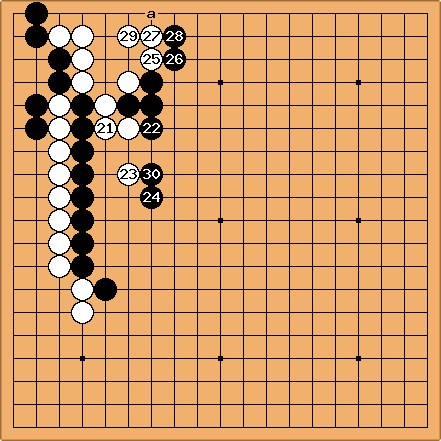 (

@ a)
White remains with only a few points of territory, against Black's influence.
Variation b
---
[1] xela: What is the source for this not being joseki? There are 27 examples of this position in GoGoD, with a and b being equally common as the next move.
[2] The Shusaku game is GoGoD 1853-03-24a, with colours reversed compared with the first diagram on this page. In Invincible, the commentary by Go Seigen simply says "the joseki (i.e. the jump shown at 45Point43ApproachOgeima) is considered a straightforward one for Black, but giving White a ponnuki is a source of dissatifaction". There's no hint that Shusaku has made a mistake here. KataGo suggests that the inside hane is actually a small mistake in this context, but Shusaku also made some mistakes in the continuation (quick and superficial analysis by xela using KataGo's 20-block network with 2000-5000 playouts per move).