4-5 point 4-3 approach ogeima
Reference diagram
After the ogeima, white may
Variations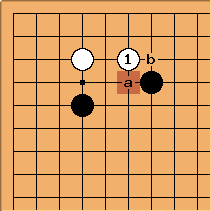 After the jump, black has two options: a and b.
a transfers to the following joseki: 4-5 point 4-3 approach keima, contact at 6-3, which will end in sente for White.
If b, White ends in gote this way, but gets ahead on the left side.
Mistakes
If

hane at the outside, then

will cut Black at the elephant's eye. White's table shape is good while Black's shape is broken.
Increasing the sacrifice for tempo gain, as with

here, is not good in this case.

does not get ahead as in the joseki variation, while

is hurt. Black indeed still needs to capture the cutting stones (a?) but his shapes are strong so he might jump ahead to c. (Dieter: this diagram needs confirmation)