4-4 point low approach high extension, slide, attachment
Look here for the closely related shape after the low extension.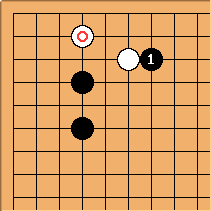 This choice of

is an old idea of Go Seigen (and other pros) which was taken up again from 1991 by Korean players. There are now some worked-out joseki for it.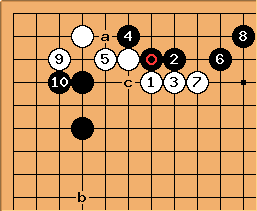 When White answers with

here, White can live in sente in the corner after these plays (White a, Black b to finish the joseki). There is a cutting point at c but Black can't expect to cut there immediately, before the left side formation is stronger. At the cost of being a little thin, Black has indeed developed on both sides.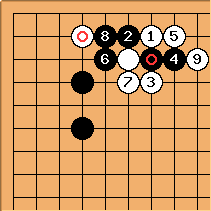 There is also a joseki in which

is hane underneath the contact stone

; it depends on the ladder with

.
For an ill-informed comment and an educating discussion of this position, see: BQM539. Due to

White can easily live (small) or make a ko in the corner.
Further reading
Bob McGuigan: There was an extensive analysis of this attachment in Go World issue number 87 as part of a series of articles on the Korean Style by Oya Koichi 8p. By now it's a standard move. Another good reason to buy the DVDs of Go World issues 1 to 108.
---
The page was written by Charles Matthews