4-4 point 5-5 shoulderhit
IwaHanako?: I have used the 5-5 point attack/invasion to create a large center moyo and finish one of my sides. Even though I grant my opponent a large corner, in the situation I used it I already had at least one corner and some of another, the influence I gained in the center seemed well worth it. Comments?
---
Alex Weldon: It's also not an invasion. Invasion implies going under or between the opponent's stones. I suppose that if the 4-4 stone was part of a moyo, this could qualify as keshi (reduction).

is a bad move, by the way, since it allows Black to Hane at the Head of Two Stones. Between to extend the other way. In any case, I'd be wary about playing such a move, because it allows Black to solidfy a very large corner territory.
IwaHanako?: Alex, I had the feeling it wasn't an invasion but what is it then?
Andre Engels: The normal move for

would be at a, and indeed

is rarely good because Black's territory gets too large. It seems that professionals play

almost exclusively when on the top or right side there is some weak group that needs to run away.
IwaHanako?: I've rewritten my top since 'invented' looked kinda stupid (especially after you posted a professional game :/).
Aurelito: I am getting this kick in handicapped games. What's the best response in that case?
---
Slowman: My ideas:
---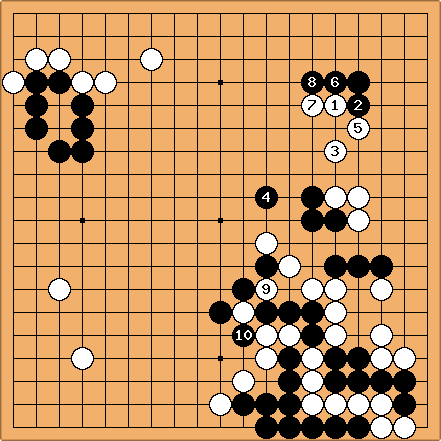 This is the type of situation where one might see a professional play the 5-5 point shoulder hit.
Kajiwara Takeo (White) vs. Takemiya Masaki, Gosei League playoff 1977.