Tiger Chain [#1639]
Tiger Chain
(2008-11-30 13:00) [#5331]
This shape came up in a game recently: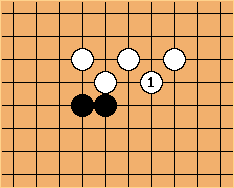 When I formed it with the marked stone I thought it was a good shape, but had a vague feeling that I'd played it before and it had proved to be bad. I guess I'm asking, does this shape form often? Is it worth having info on it? I guess if Black were to peek into all the mouths it could become a horrible dango... avoidable?
fractic
:
Re: Tiger Chain
(2008-11-30 13:17) [#5332]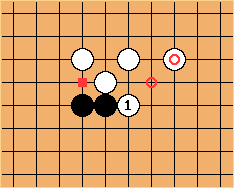 fractic: Why not play

here. You were probably worried about the peep at

but with

in place and no black stone at

there isn't much to worry about.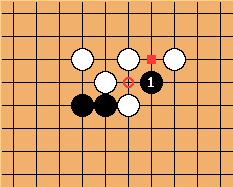 fractic: Suppose Black peeps with

. If the shape is close enough to the lower right then White can probably kill that stone with

or

.
fractic: If White is stronger here or close to the top side then

could be very effective. If Black breaks out with

-

for example then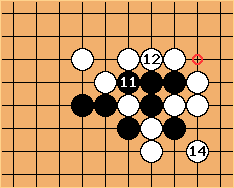 fractic: If White can handle the cut at

then Black shouldn't play this way and just abandon his peeping stone.
IainK
:
Re: Tiger Chain
(
2008-12-04 13:46
) [#5353]
Well, I didn't want to discuss my game so much as I wanted to know more about this shape (good/bad/strengths/weaknesses):
Unkx80
:
Re: Tiger Chain
(
2008-12-03 16:24
) [#5354]
While the discussion is not made specific to a game, discussion of a shape has to be made in conjunction to the surrounding stones.
For example, the

move in both diagrams really are not the same.
Dieter
:
((no subject))
(
2008-12-03 16:52
) [#5355]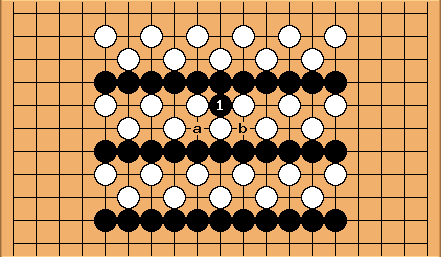 The issue of efficiency was already raised by unkx80. Shapewise, there is the fundamental weakness of the diagonal, compared to straight? development. Although this diagram is artifical, it displays rather nicely the weak aspect of the diagonal.
Both have used the same number of stones. Black can cut White all over the place, while Black is strongly connected.
Unkx80
:
Re: ((no subject))
(
2008-12-03 21:38
) [#5357]
Actually my point is not efficiency, although it is also a important consideration.
My point is much simpler: whether a "shape" is good or not depends strongly on the presence or absence of nearby stones of either colour. These cannot be omitted for a meaningful discussion. Looking back at his diagrams again, these are really two different beasts, even when the difference is only the

stone.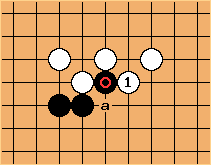 is usually okay, especially when cutting at a may result in White getting two weak groups (whether this is true will again depend on the wider context).
And then, the position matters too.
IainK
:
Re: ((no subject))
(2008-12-04 13:50) [#5358]
My stones weren't quite as close to the side as I originally posted - I hadn't got the diagram right. Fixed it now though. (just telling you so you don't think it was you who misread it :) )
HermanHiddema
:
((no subject))
(
2008-12-03 17:01
) [#5356]
Shape wise, such a chain of tiger mouth can be used to quickly make eyeshape, eg:
Unkx80
:
Efficiency and context
(
2008-12-04 16:56
) [#5360]
The others have already given good comments. I'll just add a bit more.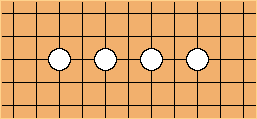 Roughly the same effect can be obtained by a series of one space jumps, which uses up to 50% less stones. This is more efficient while maintaining the connection. For this reason one space jumps is seen a lot in games instead of tiger mouths chained together.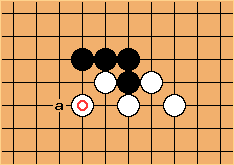 In this case, the

stone reeks of the weak player's diagonal. The attachment at a would usually be a good move for Black, highlighting White's poor shape.
In the game you provided, the chain of tiger mouths came about because you wanted to block your opponent's entry into your territory. Incidentally, this shape allowed you to secure the territory. So I have no negative comments on it.