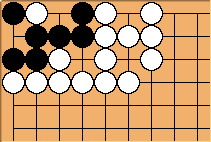 If this ko is left as is after play has permanently ended by the Japanese 1989 rules, both the Black stones and the single White stone are dead.


Anti-sekis may arise only by the Japanese 1989 rules. IMHO, they are an abomination.
Robert Pauli: In my interpretation of JRG89 the dead white stone doesn't bother White in having 2 x 7 + 3 points in the corner.
Bill: But see

Nihon Ki-in 1989 rules Life and Death Example 9.
Robert Pauli: I'm aware of it, Bill, but nevertheless . . .
WillerZ: The seki page says a seki is a situation in which "two live groups share liberties which neither of them can fill without dying", which fits my personal working definition of seki as a situation which is okay as is but if either side does anything it gets worse for them. The problem I have with anti-seki (or at least the examples I have seen so far) is that either player can play to make things better for themselves; the anti-seki only exists when both players opt to end the game prematurely. Is there any example of an anti-seki which cannot be avoided without making matters worse?
Bill: As far as I can tell, the main purpose of the J89 antiseki rule is to force the player who has just taken a ko when his opponent has passed in reply to continue and win the ko instead of passing. The J49 rules simply commanded the player to do so. Unfinished kos at the end of the game were not allowed. Now they become anti-seki.
The J49 rule was criticized for being a special ruling, and, hence, illogical. The J89 rules make filling the ko logical, at the expense of a la-la rule to make it logical. Pardon me while I gag.
Chris Hayashida: Maybe this is a direct result of the Go Seigen "I-should-get-a-point-for-not-filling-the-ko-because-he- has-no-ko-threats" ploy. :)
Bill: Go Seigen has consistently held a play-it-out point of view. So did Shusai.
Chris Hayashida: I seem to remember a game he played where he wanted an extra point because the other player had no ko threats left. Unfortunately, I forgot all of the details, like where I read the story. I'll try to look for it on Gobase.
Bill: Go Seigen was plainly the best player in the post-WWII period. He took on other top players in head to head matches, but did not compete for titles, notably the Honinbo title. He also did not belong to the Nihon Kiin. It became a tradition for the winner of the Honinbo title to play a three game match with Go Seigen, who, of course, won.
In the second game of the 1959 match vs. Takagawa, the game ended and Takagawa said that Go Seigen needed to make a teire in the center. Go Seigen said he didn't need to, and if Takagawa thought so, to play it out. Takagawa said that it would become a ko that Go Seigen would have to fill, by the Nihon Kiin rules. Go Seigen said, we did not agree to play by the Nihon Kiin rules. (Both players, OC, had read the ko fight out.)
(moved from QuickQuestions)