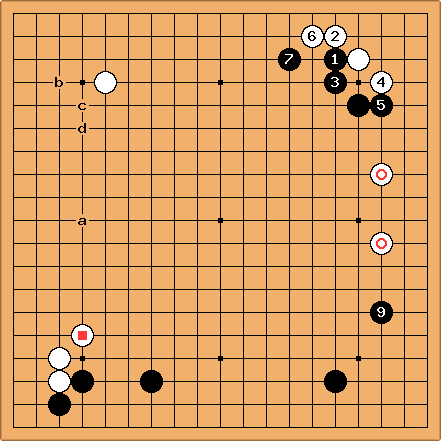 Hello, I'm isshoni, 13k on KGS and since the question seems to target strong kyu players or above, one might wonder why i give this a try...
I've just read bud1027's Some basic tips for Fuseki and since I should receive Otake Hideo's Opening Theory Made Easy soon, this page caught my attention. So let's see how badly I understood bud's advices and how unable I am to draw correct conclusions from his 2 "fuseki's first principles"! Which are:
P1. Choose bigger potential territory.
P2. Keep away from stable (strong) stones.


P1 leads me to:

1. Disqualify the right side, which obviously doesn't have a lot of potential territory.

2. Disqualify the top side:

is low and pretty stable but not that much, and White'not far away (

Black's weaknesses might lead to an open skirt). And White's top left corner stone is more into the side than the usual Hoshi or Komoku.

Then the choices that don't dissatisfy me are:

3. The bottom side. Black can develop a wide -if loose!- network there. On the right side he can attack White's 2

stones. On the left he can expand too but it would induce White to play on the left side, which, as I will soon explain, is according to me the area with most potential territory. And White has a very high stone there(

): Black would be 'expanding from behind', so to speak. In other words, White can cross the sector line if he wishes to.
Plus, Black's bottom right corner is very open.

4. This leaves me with the left side.
P2 tells me not to play too close to its bottom end. I'm left with either a wedge around the side Hoshi, either an approach of the top left corner.
I 've seldom had to deal with the 5-4 stone so I don't know where to begin. At 'b'? White could press me, give me the corner and get a thick position facing the center, well positioned to counter Black's views on expanding its framwork on the bottom side.
Instead of the komoku, I don't see how an approach at 'c' or 'd', pincered by White, could give Black a better result.

Therefore, not knowing how to handle an approach of the top left corner, I'd wedge at 'a' : the side Hoshi (or the point just above it) seems well balanced in regards to White's stones on the left side.

Now let's edit this 13k's nonsense and have a good laugh ;-)

Oh yes, as for what grade this fuseki is, should i mention that i have absolutely no clue whatsoever?.


I did'nt answer the intended position...I'll save Otake's question for the real book.