What Grade Is This Fuseki / Otake's Answer
---
Otake asks two questions:
What grade are the players in this game? He offers three alternatives:
Otake's answer is that he doesn't actually know what grade the players here are. But they are very strong. There are strange plays here but it is difficult to say that they are bad plays. White is Honinbo Sansa and Black is Hayashi Rigen (I am not sure who this is. I assume it is Kashio Rigen, a rival of Sansa's and the teacher of the founder of the Hayashi school, Hayashi Monnyusai. But I haven't found another reference to a Hayashi Rigen in Sansa's time.). The game was played some 400 years ago. At that time Go theory was in its infancy. This is the source of Otake's refusal to classify the players. Some of their opening plays are clearly weak by modern standards. However, their overall understanding of the game and of such concepts as miai is very strong and Otake considers the middle game that follows (not given in the book) very interesting and clearly professional class.
According to John Fairbairn's Dictonary of Go Names Hayashi Rigen is Kashio Rigen. Although he mentions that the major Go historian Hayashi Yutaka argues that they are in fact two different players. Apparently the last word has not been spoken on this issue. -- Arno Hollosi
What is Black's next play?
Unfortunately I posted the wrong question%%%
Yes, being an idiot, I left out one more diagram in originally posting the problem. This may have still left an interesting question but unfortunately it was not the one that Otake asked!
---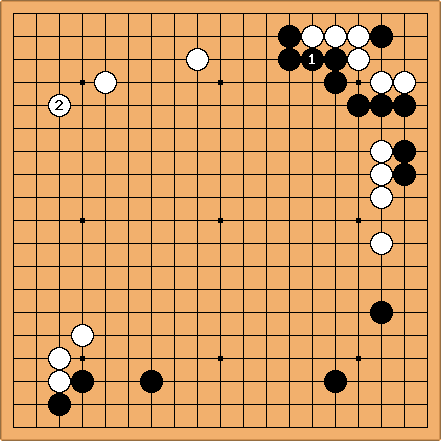 This is the point at which Otake asked for the next play by Black. The subsequent plays demonstrate the players' keen sense of miai which was Otake's subject in Chapter 1.
---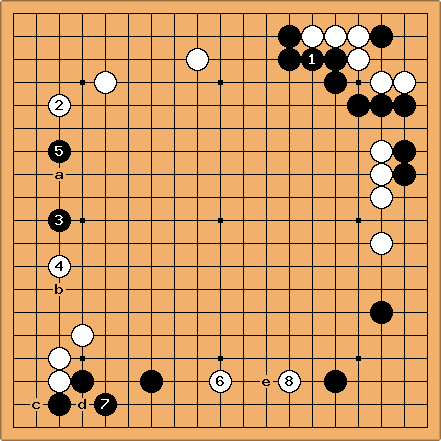 Black splits the left side leaving extensions to

or b in answer to White plays at

and a respectively. From which direction should White approach? White chooses

not because of concern over the white stones in the lower left but because of the desire to preserve the miai situation on the lower side. If White a, Black b, White c, and Black d then Black's group in the lower left has been strengthened, and Black can answer

with a play at e. In the game, extending to 8 or attacking the black group on the left starting with the white peep at 7 are miai. So

becomes an easy invasion and

,

follow naturally. -- Dave Sigaty
---